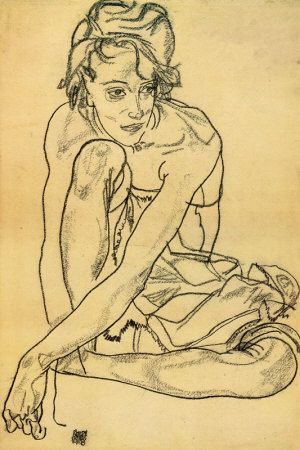 Egon Schiele
"Woman Crouching"
1918
In
a post
that appeared here in August 2005, I touched on my longtime love of
Egon Schiele
's paintings and drawings. I wrote,
"[In my teens, as] I learned more about the work of twentieth century art world luminaries, I came to love the paintings of Egon Schiele, Max Beckmann, and Francis Bacon. My attraction to these three artists should have come as no surprise, but it would be several years before I realized what these three painters share: a bold, graphic approach to contour and color. They are illustrators' painters every bit as much as they are painters' painters; their work points to the absurdity of the distinction."
I still adore Schiele's figures and landscapes. Although I no longer refer to him as my favorite artist, he remains a major figure in my pantheon.
Imagine my delight, then, when I discovered this morning that
Alice Jones
, a young artist in
New Zealand
, cites Schiele and
me
as her favorite artists in
a video Q&A she posted to her blog
. (Thanks for the nod, Alice! I'm thrilled that my pictures speak to you.)