Heide Hatry
is not a household name, but the
New York
-based
German
artist's reputation is blossoming. She has smartly positioned herself at the intersection of the art world and popular culture and, as a result, is of particular interest to me,
convinced as I am that the fine arts need mass reach
(if not necessarily mass appeal -- see
Thomas Kinkade
) in order
to play the vital cultural role
they're intended to.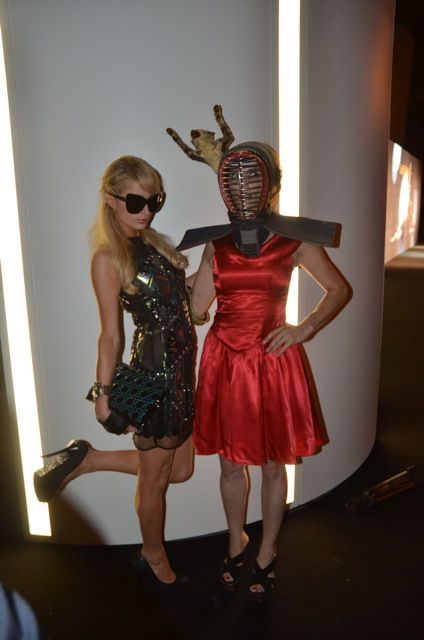 Heide Hatry, right, with Paris Hilton at the Guggenheim Museum
In September,
Hatry performed "Schrodinger's Cat" at Lady Gaga's Guggenheim Museum perfume launch
. Although
Gaga
's arty public appearances and carefully cultivated persona evidence how readily pop culture co-opts and/or draws inspiration from the fine arts, most people view Gaga as a
pop star
, not an artist. Hatry, on the other hand, is always identified as the latter, so when she is photographed rubbing shoulders with the likes of
Paris Hilton
or her work is written about by the scientist and popular writer
Steven Pinker
, I'm heartened. The art world isn't usually so accessible.
Naysayers might dismiss Hatry as the art world equivalent of a
shock jock
, insisting the popular attention she has received is only the result of
her pushing our buttons
. Certainly provocation plays a part, but Hatry has so far managed to balance titillation with thoughtful questions. (Arguably,
Damien Hirst
managed to do the same for a time...before he jumped
the preserved shark
.)