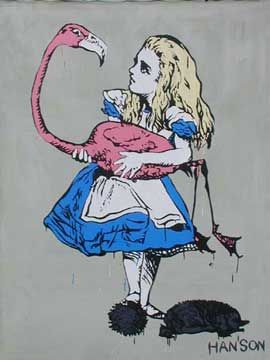 I'm a fan of "Alice in Wonderland" or, more specifically, I'm a huge fan of Alice's insatiable curiosity. Her wide-eyed approach continues to influence children and adults alike and, in my opinion, is a prerequisite for any worthy artist or scientist.
It is both my love of Alice and my fondness for the spotted hyaena (
Crocuta crocuta
) that inspired me to name this blog
Hungry Hyaena
. "But what does that have to do with Alice," you may wonder.
Below, I have excerpted from "Through the Looking Glass."
And here I wish I could tell you half the things Alice used to say, beginning with her favourite phrase `Let's pretend.' ...And once she had really frightened her old nurse by shouting suddenly in her ear, `Nurse! Do let's pretend that I'm a hungry hyaena, and you're a bone.'
Ever since I came over a hillock in Botswana and found myself "face-to-face" (in fact, the distance was closer to ten yards) with a large female spotted hyaena, I have felt a close tie to this species. They are brutal looking animals but, though most people consider them ugly, filthy creatures, I see something of myself in them.
I'm sure to go on about spotted hyaenas in a later post, but what matters here is the image of Alice, that most creative and curious of souls, gnawing on a bone with her powerful hyaena jaws.
She will be through to the marrow in no time.