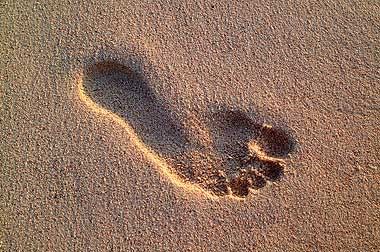 If you would like to have your
ecological footprint
calculated, click
here
.
Interestingly,
New York City
living makes my footprint much smaller than were I to live on a small farm in the rural northeast
United States
. This latter situation is my ideal, and I have long assumed that the rural lifestyle – eating only local or organic fruits and vegetables, hunting the occasional
white-tailed deer
(
Odocoileus virginianus
), and engaging in local
conservation
efforts - would reduce my negative environmental impact.
Not so. In fact, despite my now eating mostly non-organic, shipped vegetables – I eat
Chinese
or
Mexican takeout
too often to claim otherwise – my lifestyle here in New York City is relatively environmental friendly. This is a result of my walking or taking
public transportation
everywhere, but is also affected by my living in a large apartment building, and, most importantly, by the population of New York City itself.
If I were to transplant myself to the outskirts of a small
New England
town, my ecological footprint would balloon. In fact, even if I opted to live in a city such as
Burlington, Vermont
, one known for its eco-friendly attitude and policy, my footprint, while under the national average, would still be much larger than at present.
The average ecological footprint of a United States citizen is 24. My no car/
vegetarian
lifestyle here in NYC adds up to a score of just 9. The equivalent lifestyle (with the addition of a car) in a Burlington, Vermont, apartment building equals 22. Finally, the small farmhouse/studio somewhere in New England equals an astounding
39
.
Being a subscriber to the no pain-no gain approach, I think I have to compromise. I imagine I will end up shelving the small farm idea, instead opting for an apartment in a New England city like Burlington, someplace with proximity to unsettled areas and numerous parks. I still believe private land ownership and
conservation easements
are of vital importance, so if my finances allow for it I would like to purchase a plot of land, roughly 30 acres, to manage for wildlife and leave undeveloped.