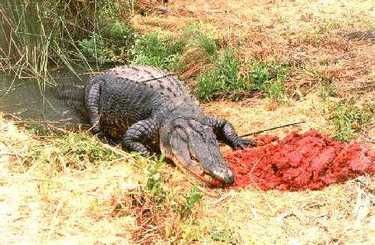 Spring is here and, for many people living in the warmer regions of the
United States
, the changing weather means
reptile
encounters. I subscribe to several email newsgroups that deal with reptile and
amphibian
conservation
. I'm regularly directed to articles, most published in local newspapers, describing "dangerous" meetings of man and
cold-blooded
beast. Sadly these encounters do not represent an increase in reptile populations, but rather further encroachment into reptile rich habitat by
our own species
. Each year, as the warmth draws the randy, hungry reptiles out of
brumation
(cold-blooded animals' period of
dormancy
), humans encounter them in garages and houses…even, Heaven forbid!, in our
gated communities
.
This morning, two articles. First, a
blurb
from southern
Florida
's
Sun-Sentinel
tells of a
US Fish & Wildlife
agent bitten by an
American alligator
(
Alligator mississippiensis
) while trying to capture the animal in a
Pompano Beach
neighborhood. Two weeks ago, I read an article in the same paper (unfortunately, the article is too old to be accessed online) telling of another aggressive alligator caught in
Weston, Florida
. This hungry gator killed and consumed a dog in a "posh Weston community." Below, I've excerpted some of the text from the article. ("Dog-killing Gator Caught," by Andrew Ryan, 03/30/2005)
"Once the animal is under control, the hunter takes it to a processing plant where it is killed and turned into gator nuggets, wallets and other products. Officials say if they were to release the animal in the middle of the Everglades it might simply come back…As development pushes further into the Everglades, clashes with gators have increased. Since the state began keeping statistics in 1948, there have been 342 alligator attacks, killing 15 people…Wildlife officers field 15,000 calls about nuisance alligators each year, and Weston, on the edge of the Everglades, is a hot spot."
On the edge of the Everglades? Hmmm… It seems to me folks who want to live in such locales should consider their own transgressions and come to terms with their neighbors. Of course this is rarely the case. Whether dealing with wildlife and human settlement conflicts or the gentrification of minority neighborhoods in urban areas, development usually wins out over balance or integration. The one encouraging spot in Ryan's
Sun-Sentinel
piece was a sensible comment made by Florida wildlife commission spokesman Jorge Pino. "We are standing in an area that used to be Everglades. We have to find a happy medium." Are we ready to do so?
The
second article
is pulled from the
Desert Dispatch
, in southern
California
. It describes a similar problem in the town of
Victorville
. Instead of alligators, though, the locals are plagued by
snakes
,
Mojave rattlesnakes
(
Crotalus scutulatus scutulatus
), in particular. Alligators may stumble into settlement on occasion, but snakes are often attracted to development as they follow their keen smell to an abundance of prey. This winter, good rains have contributed to a banner year for vegetation and, in turn,
rodents
and
lizards
. Complicating matters, Victorville is experiencing a development boom. "Within the next year there will be 15,000 new homes up here, and when they are breaking ground they are breaking habitat and the snakes are coming out," said Vicki Telford, an amateur
herpetologist
.
Unfortunately, wildlife/human conflicts are not restricted to warm regions and cold-blooded creatures. Our continued
sprawl
forces
suburbanites
into close proximity with
mountain lions
(
Puma concolor
),
black bears
(
Ursus americanus
),
grey wolves
(
Canis lupus
), and many other
predatory species
looking for an easy meal at the fringe of human settlement.
This brings me to
this article
("
The Cat Came Back: Alpha predators and the New Wilderness
," by Peter Canby,
Harper's Magazine
, March 2005), which I have been meaning to post for some time. Ostensibly a book review, the piece does more than offer straightforward critique. It pries intelligently into the contradictions and blind
Romanticism
of
"wilderness" concepts
, while simultaneously raising fair questions about our own exuberance.
Though I find myself more in
David Quammen
's camp – his book,
Monster of God
, is reviewed – than in David Baron's, both arguments are valid. Baron, in his book,
The Beast in the Garden
, focuses on contemporary humanity's misunderstanding of Nature, suggesting we need to become
a keystone species
once again, taking responsibility for the lands we occupy. While I agree with this assessment, I find Baron patronizes conservation-minded individuals. Canby seems similarly irked by Baron and turns, as I do myself, to a better, more thoughtful proponent of meaningful re-integration,
Bill Cronon
.
"The theme of the artificiality of the wilderness around Boulder runs throughout The Beast in the Garden, as does the idea that by romanticizing this artificial wilderness and its supposed 'naturalness,' Boulder's citizens were shirking their responsibility to manage it properly and were refusing to understand their role in creating the conditions that had led to the return of cougars. But Baron seems so intent on maintaining his contrarian tone, so intent on gaining points at the expense of Boulder's 'stuck in the sixties' lifestyle, that the reader is advised to turn to William Cronon, one of Baron's sources, where these ideas are better developed."
As I have mentioned in the past, I have a great deal of respect for Dr. Cronon's writing and conservation philosophy. Throwing grenades at mountain lions, beheading snakes, and shooting alligators that approach homes are temporary solutions that ignore the root cause of the conflict. As Cronon has repeatedly made clear, it is high-time we re-examine our priorities and consider what best balances the equation. Increasingly, zones of concentrated human settlement – urban, not suburban – and zones of
well-managed, connected "wildlands"
seem the best solution.
Photo credit:
A. Yanosky