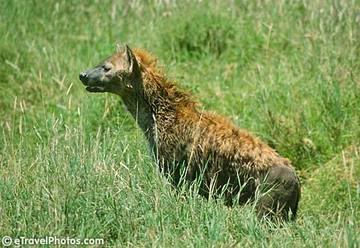 Anything I write about the
spotted hyena
(
Crocuta crocuta
) has to be prefaced with backstory. In the summer of 1997, my father took me along on a trip to
South Africa
and
Botswana
. As with many of my father's assignments, this one was a marriage of
environmental tour
and
traditional safari
. To many readers this will seem an awkward coupling, but
conservation
, as opposed to
preservation
, encourages a controlled take of some species in order to better "manage" the populations and the
ecosystem
. Just as the
U.S. Fish & Wildlife Service
sets
bag limits
on
hunted
animals here in the
United States
, so too do the governmental organizations in
Africa
. (In the States, it is clear that not every legal species is really in need of "management," and much of the justification for the annual "harvest" (i.e., regulated hunt) is financial. Though hunting and
fishing
licenses
continue to account for the lion's share of money spent on conservation causes in the U.S., some decisions seem wrong-headed, more interested in revenue than
biodiversity
. One presumes the same is true of African countries.)
The first week of the trip was spent in an ecotourism camp.
Camp Abu
was incredibly posh – overwhelmingly so! – and visitors lived in the lap of luxury despite being hundreds of miles from the nearest town. During the day, clients rode trained
African elephants
(
Loxodonta africana
) into the
Okavango Delta
. On elephant back, one can get much closer to other species and the only threats are wild elephants, especially young bulls. For the purpose of discouraging conflict, several members of the camp staff would travel alongside the elephants on foot. If wild elephants took an interest in our little group, a staff member would fire his
rifle
into the air to scare them off. The time at Camp Abu offered some terrific wildlife viewing, but I saw only one hyena. Some distance from our group, it raised its head above the tall grasses for a brief moment; then it was gone.
After a week at Abu, we headed 25 miles south to the hunting camp. My father and I were the first guests to be hosted, and the camp had only recently been constructed. This being the case, wildlife encounters were spectacular, even unsettling. Sitting around the campfire on the first evening,
lions
(
Panthera leo
) coughed (they rarely roar) and hyenas whooped just beyond the play of firelight. That night, I was awakened by a screeching bird and, turning on my flashlight and casting the beam through my
mosquito net
, I realized my tent was surrounded by a
pride
of lions. Not eight feet away a lioness stood looking directly into the light. Just behind her, a fully maned male lounged on the ground where I had unpacked my bag that afternoon. In the three seconds before I clicked off the flashlight, I noticed more lions moving about on either side of these two cats. I remained in the same position, holding my breath, for what seemed like ten minutes. I was certain death was imminent. Although the thoughts one has at such a moment are, in retrospect, quite funny, at the time I was as solemn as a 19-year-old can be, excepting perhaps unfortunate teens caught up in a war.
Our week in the hunting camp was to continue in this vein. A lunch would be interrupted by a matriarchal herd of twenty-three elephants quickly cruising by the camp. I would awake at night in agony from the sharp bite of some unknown variety of
spider
or jump to attention when I felt a
scorpion
scurrying up my back and over my shoulder. On a morning outing, we came across two male
warthogs
(
Phacochoerus aethiopicus
) fighting over territory or breeding rights, tearing each other open with their sharpened tusks. A
black mamba
(
Dendroaspis polylepis
) lived in the camp and, though I was not lucky enough to see it myself, it was spotted several times during my stay. Yet three days into our stay at the hunting camp, I had only
heard
hyenas.
My encounter came mid-week. That morning, I was stalking a male
impala
(
Aepyceros melampus
) with the PH (
professional hunter
). We had followed the animal for a couple of miles and now found ourselves atop a hillock. The impala was roughly a hundred yards away and an opportunity presented itself. Peter, the PH, set me next to a tree against which I could stabilize the big rifle. He told me to fire when I felt comfortable. The truth is, I
wasn't
comfortable. I had come to Africa understanding that I would
not
hunt with a rifle, but with a camera. Unbeknownst to me, however, one impala permit had been purchased in my name and, though I'm still not convinced he didn't know in advance, my father was elated at this news. Realizing how very important this was to my father, I bowed to the pressure and now shouldered the
30.06
and sighted the crosshairs on the "boiler room," the area of an animal that houses the
heart
,
liver
, and
lungs
. When I pulled the trigger, the rifle kicked back and the barrel pitched up. I was certain that I had fired over the impala. Indeed, the
antelope
continued to pick at grasses, seemingly unaware of
the lead projectile
which had just screamed by. Peter was visibly discouraged by my poor shooting. Rather than have me reload and fire again, he thought it best that I scratch this animal and await another stalk later in the week.
We made our way down the steep slope of the hillock. Reaching the bottom, Peter grabbed my arm. "Don't move," the
Englishman
said. Ten or fifteen feet from us, three impressive creatures lifted their heads from the grasses. So broad and muscular were their chests, I was every bit as terrified of these intimidating spotted hyenas as I had been of the lion pride. The closest animal stared at Peter and me, its great head steady atop a powerful neck. She was gorgeous in her way, despite the matted fur and odd proportions. After ten seconds, she lowered her head, made a quiet chortle to her companions, and all three moved off. Peter let go of me and said, "Follow me…quickly now." The instruction was unnecessary.
What made that moment so remarkable was circumstance. I was at the mercy of this
predator
. While the same is true of the lion experience, I didn't feel so considered by the
cats
; Tiki and Tsonga, two camp trackers, later explained that the lions had surrounded the tent because of my father's loud snoring and, having already made a kill that evening, were merely curious. The three hyenas might also be described as curious, but Peter had grabbed my arm for a reason. We were, for a moment, potential prey. (The only other instance of such primal vulnerability I've known was during my time working in a tent camp on
Costa Rica
's
Osa Peninsula
. Doing trail work in the
rainforest
one afternoon, I became convinced that a
jaguar
(
Panthera onca
) was stalking me and spent the better part of a frightening hour making my way down to the beach and relative safety.)
Though I appreciate
animist
myths
and
fairy tales
, I'm not much for spiritual mumbo-jumbo. That said, I have had a few experiences in my life which leave me feeling intimately connected to another species or place. In Botswana, two moments stand out. On my last day in the tent camp, I went for a walk on my own. Emerging from an island of trees I looked out over the
savannah
. As I wrote of the experience at the time, "…the sun sank behind islands of incredible beauty, painting the trees black and the savannah grasses gold. I stood on my own and felt at peace because there, as in very few places anymore, one is immersed completely in nature. In the distance, a lion roared and Africa seeped into my soul." Curiously, the power of that moment has faded with time, whereas the hyena meeting has only become more profound.
(
Part 2
of this post will focus on the
natural history
of the spotted hyena.)
Photo credit
: ripped from
eTravelPhotos.com