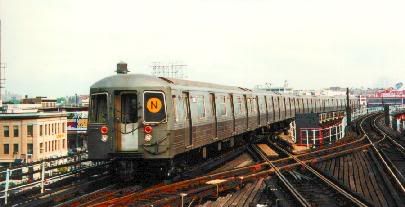 For the most part,
New York City
's
subways
are subterranean, but some lines in
the outer boroughs
are elevated. The
Queensbound
N/W subway line
emerges from under the
East River
and rises over the rooftops before turning north up 31st Street to
Astoria
, where I live.
Yesterday, as white sunlight made unnecessary the green fluorescent glow of the subway car lighting, I looked up from my magazine and noticed a young
Colombian
boy playing with his father's cell phone. Standing by a window, the boy had selected the phone's camera mode and was captivated by the cityscape, pixilated and bleached, as it cruised by on the phone's small viewfinder.
'There is something here,' I thought. Is this a nice metaphor for our
First World
disconnect, I wondered? Does a preference for a digitized interpretation of the world suggest a break with the unmediated rest of it? Is the child
really
exhibiting such a preference or is this cigar just a cigar? For that matter, is the "real" world anything more than a neurological interpretation itself, our own
personal computer
translating strings of chemical
1s and 0s
?
Suddenly, I found myself recalling something
Antoine de Saint-Exupery
, author of
The Little Prince
, wrote in 1945.
"It seems to me that something new is in formation on our planet. The material progress of modern times has indeed linked mankind by a sort of nervous system. The contacts are innumerable. The communications are instantaneous. We are materially bound like the cells of the same body. But this body does not yet have a soul. This organism has not yet grown conscious of itself. The hand does not feel itself a part with the eye."
His observation still rings true today, at least to psuedo-luddites like myself.
Hung over and splintered, my mind made a seemingly disparate connection between the Exupery quote and a poem I wrote five or six years ago.
Sunset is chilly
on the shores of Southampton,
the water creeping closer
to the foundations of second or third homes.
Hiding in a tangled mass
of beached seagrass,
the tiny coffins of unborn skates
catch our attention.
Tearing open one of the leathery wombs,
a yolk falls into my palm.
Still attached, still feeding,
is a squirming embryo.

Next morning now,
The clouds heavy with rain
sag and burst like
too full mammaries.
The rain chases my train
to New York City.
The father reached over and pried the phone out of the boy's hands. The boy looked up in protest before turning his attention to his shoes.
Photo credit:
1995-2001, Chao-Hwa Che