Stuck in a creative trough for a while now, I resorted to extreme measures. This past week, I picked up "Art & Fear," a good natured, if at times preachy, book with apotropaic qualities. I have read it several times before, most recently in 1999. Opening the book on Tuesday night, I found the following note taped to the inside front cover.
"A book that can always be read again and again and, contrary to the opinion of [an old artist friend], every artist needs a security blanket once in a while. While some sections seem to be [aimed] at old ladies who paint flowers for the craft show, most of the book is informative and warm. Instead of opening your veins, reread this book. (November 7, 1999)"
Apparently, in 1999, I knew I would one day return to "Art & Fear," but I also realized I might need a push. I'm glad I wrote the note then, otherwise I might have returned the book to the shelf and missed out on some good "healing." By Friday, I felt much better about my work but worried this calm would prove temporary, like the eye of a hurricane. Frightened of what the remainder of the storm may bring, it seemed prudent to stay out of the studio for a while longer. I elected to wander around Chelsea on Saturday, considering other artists' work instead of my own. I'm happy I did.
I ran into a number of people I know - artists, dealers, and art lovers - and felt a part of the New York art community. I even stopped and struck up conversation with an artist I don't know personally, but showed with in a Miami group show in 2004. Such gregariousness is unusual, but I was feeling pretty good about life, by and large.
Not surprisingly, most of the shows I saw were mediocre and there were several unexpected disappoints. Zak Smith, at Fredericks & Freiser, Lucy McKenzie, at Metro Pictures, and Yoshitomo Nara, at Boesky, had been well publicized and praised, but I found the shows dull and, in the case of McKenzie, baffling and esoteric. Zak Smith is a good painter, but he doesn't do anything interesting with his ability and Nara, whose work I appreciate, needs to mix things up a little bit. Having said that, these three shows are far superior to the worst of what I saw, most of which I have already forgotten, thankfully.
+++++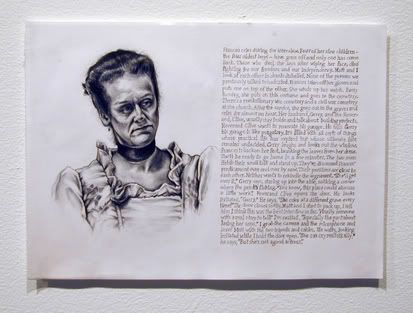 Postmasters
:
Omer Fast
is not an artist I knew of, but his two-channel video installation at Postmasters captivated me. Fast interviewed "character interpreters" who work in Colonial Williamsburg and presents the filmed interviews on one screen, while the second screen offers a montage of scenes in and around Williamsburg, Virginia, including footage of the many new housing developments and strip malls, colonial reenactments, and other goings on. The resulting is experience is rather melancholy, forcing the viewer to engage history as a brand of fiction and to confront our contemporary alienation from meaning and utility. I may be a biased viewer, however, as I went to undergrad at The College of William & Mary, situated in the heart of Williamsburg, and I always felt the town was representative of our proud nation's loss of that which it strives to celebrate.
In the back room, Fast includes a series of pencil portraits of the interviewed individuals. Alongside each skillfully handled drawing, Fast writes a synopsis of his time with the person, some of which are amusing or awkward.
+++++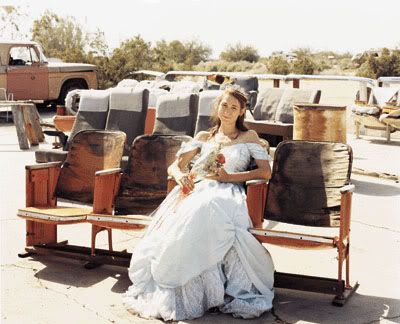 Luhring Augustine
:
Joel Sternfeld
's photographs from the late 1970s are beautiful, meditative images of Americana and American landscapes. I have coveted these prints for several years and was duly excited to learn of his more recent pictures, which are currently on display at Luhring Augustine. In 2005, Sternfeld turns his lens on "experimental utopias," which include everything from traditional hippy communes to the research and medical facilities constructed at the behest of Dr. "Patch" Adams. Though I like his choice of subject and remain impressed by the clarity of Sternfeld's vision, I feel these more recent images lose for being "about something." With so focused a theme, the magical realism of Sternfeld's older work disappears, and these photos would fit better in the pages of National Geographic. Don't get me wrong; National Geographic publishes stunning photographs by outstanding photographers, but readers meditate on the conceptual content of the photos, in the context of the article they accompany, rather than the photographs themselves. In other words, Sternfeld's latest works are wonderful illustrations.
+++++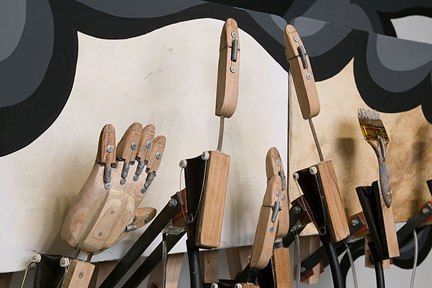 Jessica Murray Projects
: In the all around fun category,
David Ellis
's "Orchestrion" stands out. Ellis builds primitive looking instruments out of unconventional materials - a paintbrush bangs an old chair seat and a sculpted tree stump houses a tree-ring turntable - and hooks them all up to a computer, allowing him to control them. Walking into an Ellis installation, viewers should be prepared for a percussive cacophony. The artist sits in the space, editing the loops and playing with beat ideas on a laptop, with the eventual goal of producing a sound-track for one of his videos, a film of a twenty day performance at the Savannah College of Art and Design in Savannah, Georgia. Maybe I'm partial to the work because Ellis is a southern boy or because he seems so willing to throw himself into numerous projects at once, but whatever the case, his racket is satisfying.
+++++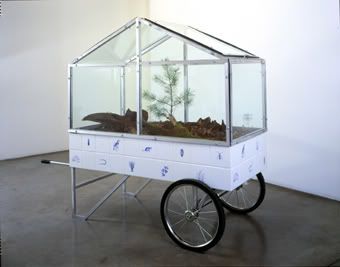 Tanya Bonakar
: The works included in the group show "Controlled" deal with "man's interaction with, and attempt to control, elements from nature." A timely subject, certainly, but most of these works fail to communicate anything particularly insightful. Two works, however, stand out. One of
Carla Klein
's two large scale paintings of the great salt flats in Utah evokes an Antarctic landscape, barren save a few tire tracks, presumably made by whatever outdoor vehicle has brought us here, to the end of the world. Everything is white and blue, and the cinematic dimensions of the painting support make us feel adrift in the space and wholly at Nature's mercy. Klein's second painting fails because she includes the dashboard of the vehicle and more sky; the sense of isolation is gone and the painting is unremarkable without it. In the next room,
Mark Dion
, one of my favorite conceptual artists, includes his "Mobile Bio-Type: Eastern Woodlands," a small greenhouse on wheels that houses a sampling of a forest floor, moss, hummus and all. Dion is forever questioning our all too human urge to classify, quantify and qualify and this rolling greenhouse would be fit just as well in the Museum of Natural History. It isn't the most successful Dion piece, but it is the best work in this particular show.
+++++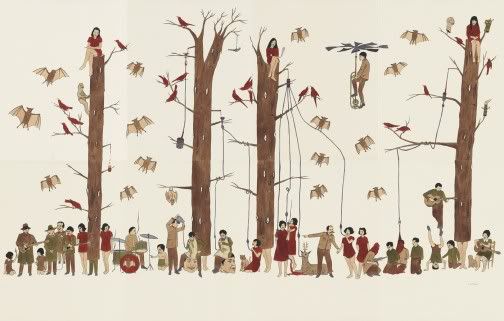 David Zwirner
: The best show of the day was
Marcel Dzama
's collection of drawings and paintings at Zwirner. Dzama, a young Canadian, makes smart, acceptably deviant watercolor works on paper populated by hybrid man-animals, bloodthirsty, horny humans and innumerable other creatures. A few years ago, his works featured only one or two characters usually engaged in some violent or sexual act. Now the paintings are crowded with actors and the stages reference a generalized mythology, history and folklore. i think Dzama's work wonderful, a perfect blend of Goya and Gorey. The only failing of the exhibition is the space. These works do better when viewed independently of one another. Hung in a large gallery space, the works seem too similar and forced me to wonder if Dzama may soon become bored with this series.
A few streets north, when viewing
Jon Pylypchuk
's show at
Friedrich Petzal
, I thought back to the Dzama show. Pylypchuk's work is sometimes visually satisfying in an indie-rock, rough sort of way; I believe this is a result of his unorthodox material use - I like seeing fake fur pressed into oil paint. Ultimately, though, Pylypchuk's slacker paintings and sculptures prove unintelligent...especially when compared to Dzama's paintings.