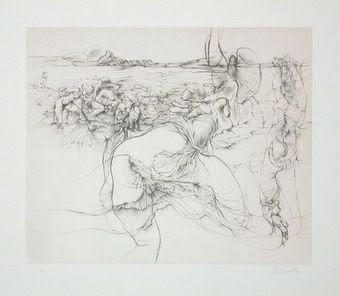 Hans Bellmer
Untitled
c.1960
Engraving
19 11/16 x 25 9/16 inches
Miguel Abreu Gallery:
This unpretentious, storefront gallery opened just two months ago. I know nothing of their planned program - the website is not very informative - but when I saw the current listing on
ArtCal
, I made a point of jotting down the address. One isn't often afforded an opportunity to see a gallery exhibition of works by
Hans Bellmer
. Though celebrated chiefly for his ball-jointed doll sculptures
(1)
, I've long admired - and preferred - the artist's erotic drawings, particularly those that incorporate landscape.
The exhibition features a selection of framed prints, photographs and drawings, most of which are small in scale. Bellmer's draftsmanship is superb; as a result, the prints and drawings are more intriguing than the photographs. I couldn't help but feel, however, that a considerable share of the work on display suffers for the artist's unconscious process. Eroticism can be used intelligently (for example, the engraving pictured above), whereby it is marshaled to communicate base universality. On the other hand, it can be presented as a visual stream of consciousness, honest but unmindful, which usually leads to sexual objectification and reductive signing (the engraving below). Granted, it's difficult to avoid the latter result but, as is evidenced by Bellmer's successes, it's not altogether impossible.
The Bulgarian surrealist poet and writer, Nora Mitrani, is quoted in the gallery's press release; she suggests that Bellmer aims to "destroy the contradiction between the interior and exterior." This is a worthy ambition and, gloriously, the artist sometimes succeeds. Usually, though, he produces mannered works too libidinous to transcend personal record. Not that there's anything
really
wrong with that. Even Bellmer's lesser works are lovely and sensual, but they don't have the staying power or resonance of his infrequent triumphs.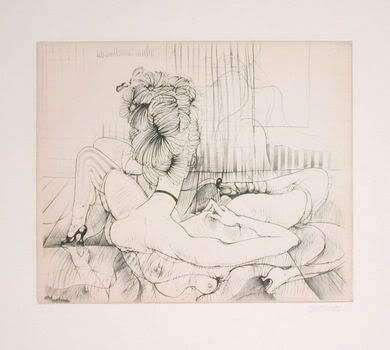 Hans Bellmer
Untitled
c.1960
Engraving
19 11/16 x 25 9/16 inches
(
Note:
Neither of the Bellmer works pictured here are on display at Miguel Abreu Gallery. See credit/source at bottom.)
+++++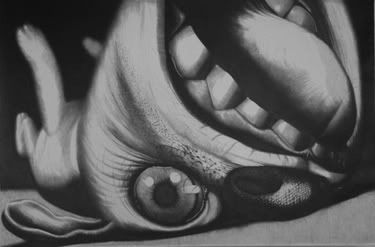 Davor Vrankic
"Asphyxia Series, Untitled"
2005-2006
Pencil on paper
31 x 46 inches
The Proposition:
I expected Hans Bellmer's drawings to be the art highlight of the day, but I was pleasantly surprised by
Davor Vrankic
's
recent works
, on display at The Proposition, in Chelsea. Vrankic's drawings astonished me. Rarely do I enter a contemporary art gallery and feel that I am in the presence of significant work, but there is no better way to describe my reaction to Vrankic's dexterous pictures.
In matters of craft and technique, Vrankic minds the masters past, but his imagery - cartoonish, grotesque and anxious - is borne of a contemporary vision. As the press release puts it, Vrankic "combin[es] the logic of synthetic images with classical drawing." Standing in front of some of the smaller works, such as "Scenes from Interior, Untitled" (below), I thought of inspirations as diverse as
Brueghel
,
Bosch
,
Caravaggio
,
Durer
,
Hitchcock
,
Welles
, and
Crumb
, but also of countless graffiti artists and lesser known cartoonists.

Davor Vrankic
"Scenes from Interior, Untitled"
2005-2006
Pencil on paper
13 1/2 x 19 3/4 inches
The objects Vrankic depicts - slabs of raw meat, plush toys, miniature Candyland landscapes - are all associated with saturated color. There is something foreboding, then, about the monochromatic presentation. This feeling is heightened by the artist's choice of vantage point. Often low to the ground or so close to the subject as to make the viewer feel relatively insignificant, the objects Vrankic depicts are subjected to the cruel stretching and distortions of a camera lens. Photographs and film convince; we believe in these realities. At the same time, the cartoonish proportions and plasticity of the objects - in one drawing, a steak is cut into the shape of a gingerbread man - remind us of their artifice. This duplicity is as intelligent and critical as it is fun.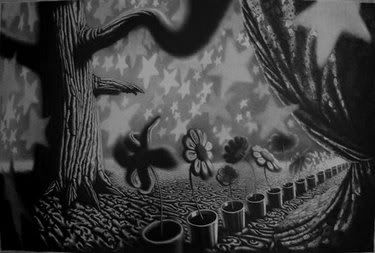 Davor Vrankic
"Scenes from Interior, Untitled"
2005-2006
Pencil on paper
13 1/2 x 19 3/4 inches
Happily, the press release confirms that the artist - or maybe the dealers - are thinking about the ambivalence present in the works, and I left the gallery feeling generally good about the state of things. I look forward to seeing more of Vrankic's work. It is exceptional.
Photo credits:
Bellmer images ripped from www.bartschi.ch; Vrankic images ripped from The Proposition website
(1)
Bellmer is often cited as an influence on the work of
Cindy Sherman
. The gallery's press release also mentions his prominent position in the pantheon of
Mike Kelley
and
Matthew Barney
. In the case of Sherman and Kelley, these associations are based on rather literal connections. All three artists have, at some point, mutilated or hybridized dolls and stuffed animals. Bellmer's drawings and prints, however, have a universal appeal that his doll sculptures lack, and today his biomorphic visions inform the work of innumerable young artists working in two dimensions. (
Robert Gutierrez
springs to mind), particularly those with a predilection for the graphic.