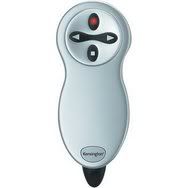 Once again, I find myself ignoring
Hungry Hyaena
in favor of painting and drawing. To be fair, "ignore" isn't really the appropriate word. I miss the regular writing terribly and, even when happily ensconced in the studio, I find myself fretting about the difficulty of achieving equipoise. Is it possible to fully satisfy two creative motivations? The writing complements the painting, to be sure, but both require a great deal of time (and hand-wringing) and are, therefore, competitive with one another. Occasionally, I'm able to steal a few minutes from the day job - as I'm doing presently - but I prefer to spend hours turning over a piece of writing and these cursory, apologetic posts are totally unsatisfying...even frustrating.
In the blogosphere, a few of these "I'm still alive!" proclamations in a row typically suggests flagging interest on the part of the writer. I assure you this isn't the case. I just need one of those handy, magic remote controls, like the one featured in the new Adam Sandler comedy, "Click" (which looks truly awful). Wouldn't it be nice to press the "Pause" button, bang out a dozen paintings and thirty essays while everything else is frozen, and then hit "Play." Oh, to be that prolific without sacrificing care!
At any rate, with several shows coming up in the fall, I need to make more art work, stat. Although I already have plenty of work on hand, I'm spread a little thin due to the overlapping exhibition timeline. So, until the fall arrives, I fear posts will remain infrequent.
Further troubling on the writing front is the unsettled situation at
Scrawled
. v1n5 (the June issue) has yet to appear online and, at the moment, I'm not sure it ever will. I'm in the process of trying to find another art magazine - online or otherwise - to publish with on a semi-regular basis. Whatever the case, I'll definitely let
HH
readers know when and where the piece on artist
Deborah Simon
will appear...when it does. Also on the horizon is a feature on the work of
Sarah Trigg
.
Alright, a few random things I thought I'd mention.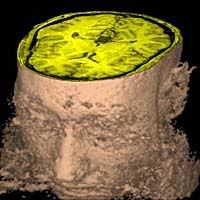 1)
On Friday afternoon, I learned that the human male brain matures at 30 years of age. (By contrast, the female brain is mature at 22.) I can't stress enough how relieved I was upon hearing this. I cheered the year-and-a-half of my remaining, relative adolescence. Party on, Wayne! But then I wondered: should I despair that there will, after maturity, be no physical expansion or further connectivity? Oh, well. Sure, I'll have to make do with a lot of fine-tuning, but - let's be honest - it will be wonderful to sort out the mess.

"untitled"
c. 1970
Mixed media
7 x 3 1/2 x 2 1/4 inches
2)
On Saturday, while taking a much needed break from painting, I read the most recent issue of
ArtForum
(Summer 2006). The closing lines of Jenifer P. Borum's review of the
Philadelphia Wireman
at Matthew Marks
rankled me.
Borum writes, "...the question remains: Can or should the Wireman's appropriation of pop-cultural castoffs, produced without any apparent ironic or other critical intent, ever be assigned the same art-historical significance as the work of more canon-savvy practitioners?"
Because Borum focuses on "art-historical significance," I almost forgave the question, but her description of "canon-savvy practitioners" stinks of Art World pretension. Is thoughtful art produced only by a trained, privileged caste? For that matter, need art be thoughtful - as in intellectually stimulating - to be valuable to the maker? I, too, question what, if anything, distinguishes the Philadelphia Wireman's assemblages from the objects produced by innumerable other unrecognized - or under recognized - artists working outside the Art World proper, but Borum's query is more general and divisive. In essence, she asks if
any
of these "outsiders" is significant.
In response, I ask Borum. What
real world
significance is assigned to the ironic and critical work of canon-savvy practitioners? For the Philadelphia Wireman and many thousands of other working artists - whether or not they make a living at their craft - the making is definitive. The Philadelphia Wireman probably harbored no illusions of gallery exhibitions or critical bibliographies; for him, the bending and the stuffing and the tying was a curious way to pass - maybe even measure - time. Nothing more, but what more is there? Bollocks to art-historical significance. It will all be redefined (and then erased) in any event.
3)
Lastly, on Sunday morning a friend emailed me
a video
featuring the amazing visual acuity of
Steven Wiltshire
. (More info
here
.) Wiltshire suffers from autistic spectrum disorder. He was mute until the age of 9, and his primary mode of communication during the early years was drawing. Although he does talk now, drawing remains central to his life. His architectural renderings are accomplished and he produces them very quickly, with little or no editing. Most remarkable, however, is his ability to observe a scene and then draw it, from memory, almost perfectly. This sounds hard to believe, but I encourage anyone interested in neuroscience or art to check out
the video
. I was flabbergasted.
Photo credits:
ripped remote image from Amazon.com; ripped brain image from www.mabot.com; Philadelphia Wireman image courtesy Matthew Marks Gallery