September heralds more than a few openings and other art events in
New York
. There are hundreds of opportunities to see art while mingling with the beautiful (and not so beautiful) people during the fall kick off of another art season. This time 'round, my paintings and drawings are included in the mix.
If you find yourself in this neck of the woods and you're looking to see some art - even if you're just in the mood for a fine Dixie cup of gallery wine - then join me at one of the evening events detailed below. If, on the other hand, you prefer to see art
sans
socializing - I appreciate that sentiment - the solo show will be up through October 15th.
+++++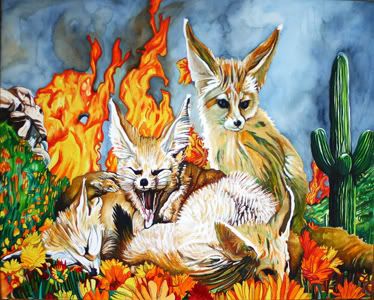 Christopher Reiger
"a painfully ordinary bliss"
2006
Watercolor, gouache, sumi ink and marker on stretched Arches paper
25 x 20 inches
Friday, September 8th
"
Mongrel Truth
," my first solo show, opens at
AG Gallery
, in
Williamsburg, Brooklyn
. I'm very pleased with several of the paintings included, as well as a number of the small drawings and washes. If you miss the opening on the 8th, there is an encore on Friday, September 15th. I'll be on hand both nights, all dolled up.
"Mongrel Truth"
Christopher Reiger: Solo Exhibition
September 8, 2006 - October 15, 2006
Opening Reception: 9/8, Friday, 7-10pmEncore Reception: 9/15, Friday, 7-10pm
Gallery Hours: Sun. ‐ Tue. 12-8pm, Wed.-Sat. 12-10pm
For further information, please contact the gallery at 718-599-3044 or visit
the website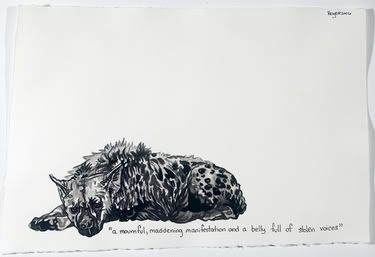 Christopher Reiger
"Crocuta crocuta (unknown, saffron-colored wild animal)"
2006
Sumi ink on Arches paper
9 1/8 x 14 inches
+++++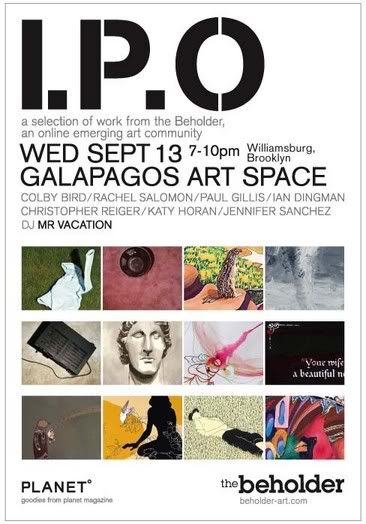 Wednesday, September 13th
The Beholder
, an online art gallery based in
San Francisco
, is dedicated to offering art to people who are intimidated by (or just unfamiliar with) the gallery system/art market. I think their mission is important and I was therefore delighted to join their stable of artists a few months back.
On Wednesday, September 13th, The Beholder is landing in Williamsburg, Brooklyn, at
Galapagos Art Space
. Two of my paintings will be on display, along with works by a number of other talented Beholder artists.
On a related note, I'm the current artist feature on The Beholder site. Check out
this link
for an interview and toothy grin.