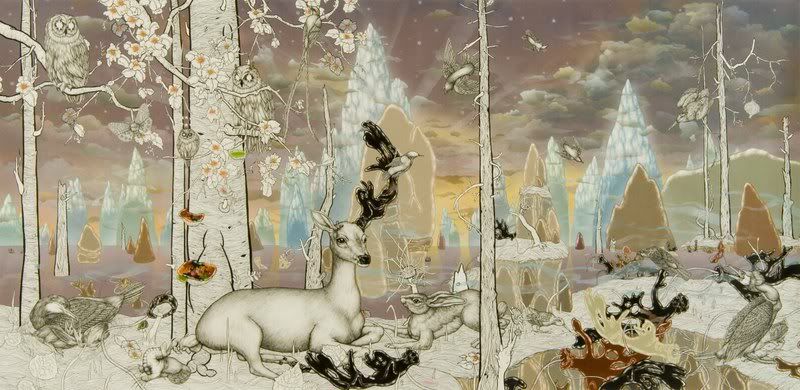 Jon Rappleye
"Nightwood Bloom"
2007
Acrylic on paper
42 1/2 x 87 inches
Because our creative siblings produce work that explores overlapping formal or conceptual territory, we tend to judge their output with more rigor than we might otherwise apply. As a result, I hold
Jon Rappleye
's mixed media paintings to a very high standard.
Like me, Rappleye draws his imagery from the indistinct intersection of natural history, animism, anthropomorphism and magic. I was introduced to his work in 2002; a smallish black-and-white painting hung in the
Jeff Bailey Gallery
office space. Set against a deep, black ground, owls and padlocks floated in an undefined space. Rappleye's execution was skillful and I responded to the imagery but, at the time, I was still struggling to find my own voice and I was therefore as skeptical of Rappleye's painting as I was excited by it.
Does he really know these animal players?
, I wondered.
Does he fathom the world he depicts? Is he someone who truly appreciates being enveloped by that world?
These may seem like strange questions but, for me, they were intrinsic to the spirit of the work.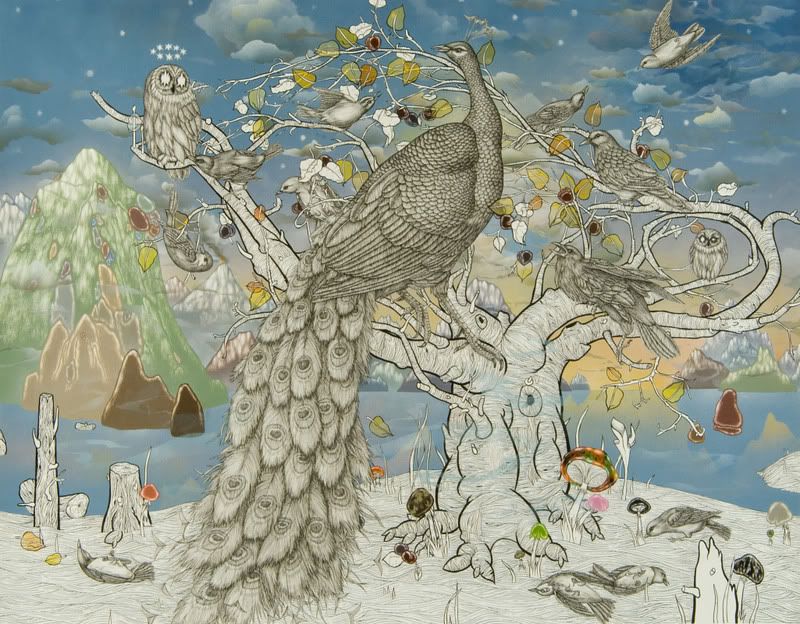 Jon Rappleye
"In the Quiuver of the Kingdom"
2007
Acrylic on paper
40 x 51 inches
Both Jon and I have grown as artists in the intervening five years and Jon's recent solo show, "
Awakened In The Peaceable Kingdom
," also at Jeff Bailey, puts those questions to rest. I'd like to believe that the questions fade from relevance and that I can therefore fully appreciate Rappleye's work because I'm secure in my own doings. Perhaps that plays a part, but Rappleye has carefully honed his craft and defined his invented world; the works he produced in 2007 are not only his best to date, several are among the best paintings I've seen this year.
The cast of characters in this new work - hybrid amphibians, woodcocks, cormorants, ravens, poorwills, antlered owls, mushrooms, dead songbirds - is familiar, but the relationships between Rappleye's animal subjects have grown more complex and the ambivalent cycle of life and death is more readily observable. Whereas three years ago his pictures read as pastiche - every crow, owl or rabbit a distinct vignette - a painting like "Awakened In The Peaceable Kingdom" presents the viewer with a viable, if fanciful ecosystem.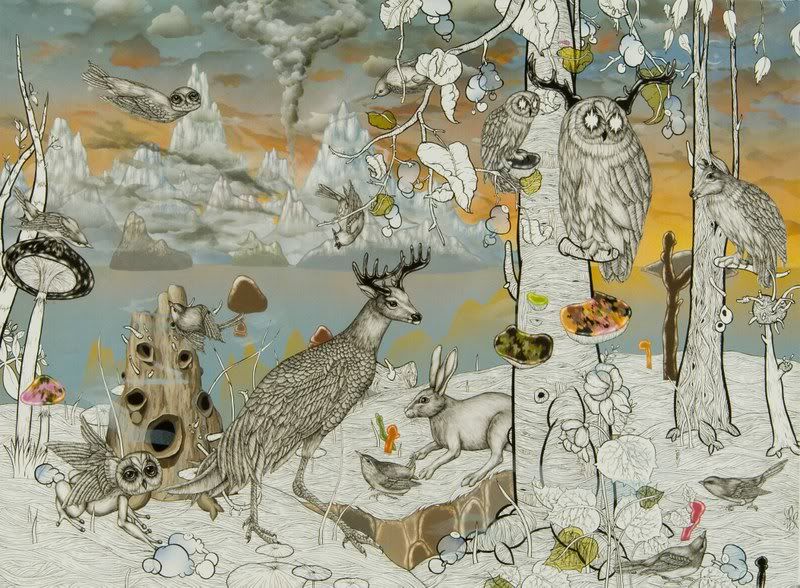 Jon Rappleye
"Awakened In The Peaceable Kingdom"
2007
Acrylic on paper
38 x 50 inches
The biomorphic landscapes in this work, too, feel more attended to; alternately bulbous and elongated, Rappleye's trees, stumps and slopes are as cartoony and sexualized as ever, but they take on a more nurturing character, in part because they are more convincingly occupied. Rappleye's
fine line work
, already notable in 2002, is ever more masterful; I spent long minutes admiring his economical rendering of a mammal's fur and the lustrous detail included in the feathers of a peacock's tail.
Rappleye also includes two sculptures in the exhibition, both cast in china. The new technique is a nice addition to Rappleye's output, and his blind - eyeless, actually - yet watchful owl, perched on a branch in the corner of the gallery, had me wondering if Rappleye might not produce installations one day and, if so, how they would inform the paintings (and vice versa).
Photo credits:
all images courtesy Jeff Bailey Gallery