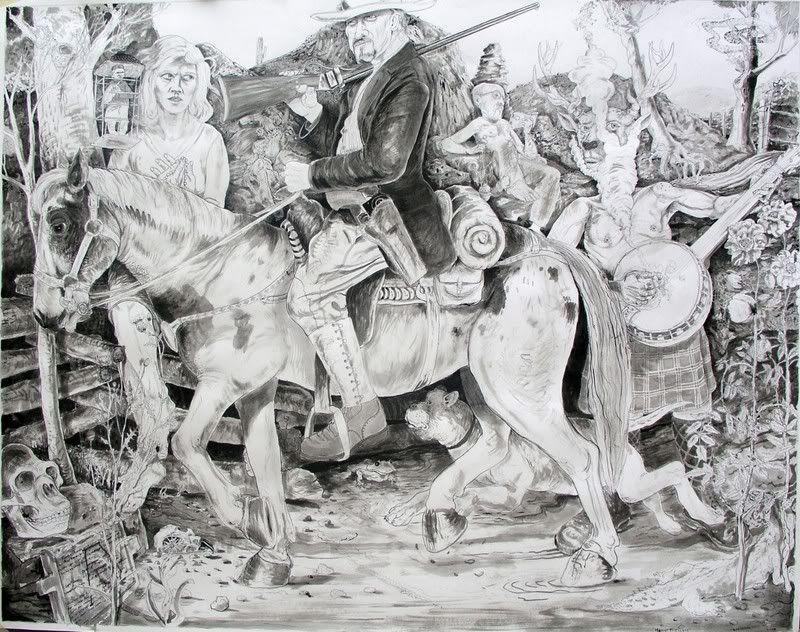 Lee Baxter Davis
"Man of the West"
2007
Pen, ink and wash on paper
44 X 56 inches

Two years ago, in
an essay
contrasting
Lee Baxter Davis
's work with that of his former student,
Trenton Doyle Hancock
,
I characterized
Hancock's
Mounds saga
as a "packaged experience" and described Davis' coarse visions as the unadulterated output of a "reclusive alchemist." I intended the critique not as a denigration of Hancock, whose work I generally admire, but rather as a celebration of Davis and other artists of his kind, productive at society's fringe. Industry success for Davis, a retired art professor now working as an assistant pastor of St. William the Confessor Catholic Church in Greenville, Texas, has been a long time coming, and I'm happy that
Clementine Gallery
is making space for his powerful, under-appreciated work.
Davis' allegorical drawings - layered, raging, and libidinous - are messy, almost psychotic pictures, and his characters are possessed of that peculiarly American madness that drives us ever west to spread the gospel of Manifest Destiny, Jesus and Adam Smith.
There is a
Cormac McCarthy
brutality and ugliness to Davis' figures, all of whom have either abandoned compassion in favor of machismo and promises of what-might-be or appear resigned to a Hobbesian existence. Yet the over-arching lesson of Davis' pictures is a gracious one; ashes to ashes, dust to dust, let us not forget where we came from (and where we are going) as we ride on.

Lee Baxter Davis
"Out West (Rousseau & Cleopatra)"
2007
Pen, ink and wash on paper
40 X 21 1/2 inches

Photo credits:
Davis images courtesy
Clementine Gallery