Sean McCarthy
"Amon"
2007
Ink and graphite on paper
8 1/2 x 7 inches
Fredericks & Freiser
:
Sean McCarthy
is quoted at length in the press release for his current solo show, "
I Think of Demons
." He states,
"...as a participant in the contemporary art world, I hear a whole lot of approving discussion of 'conceptualization' but scant mention of 'imagination.' I can't think of any attempt to develop a morphology of demons, or to unpack their individual meaning with any specificity. So I like the idea of presenting demons in a portrait format, giving them the same kind of individual attention one might give to human subjects."
Offhand, I can think of one popular attempt to "develop a morphology of demons," but the fiends included in the
Dungeons & Dragons Monster Manual
are not limited to demons we know on a first-name basis, nor are they proper portraits. McCarthy's desire to represent his demonic roll call in a traditional format is anachronous...in a good way.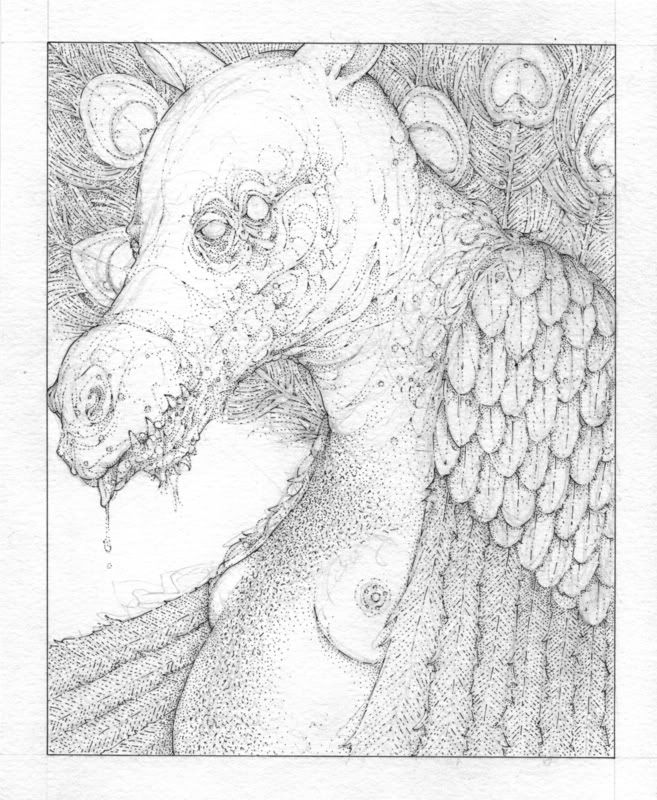 Sean McCarthy
"Andrealphus"
2007
Ink and graphite on paper
8 1/2 x 7 inches
McCarthy's craft is impeccable - what's with all the young artists from Texas drawing so well? - and, for the "Demons" project, he opts for a light, airy handling. This immateriality is appropriate - demons are manifestations of the unconscious, after all - but, in a few cases, the choice renders the demon impotent. Yet the same ethereal treatment animates the strongest portraits, "Amon," "Andrealphus," "Flehman Response," and "Uvall" among them.
McCarthy's successes make the whole affair worthwhile, and I look forward to seeing what his remarkable ability and Boschian sensibility next produce.
Photo credits:
Sean McCarthy images courtesy
Fredericks & Freiser, New York