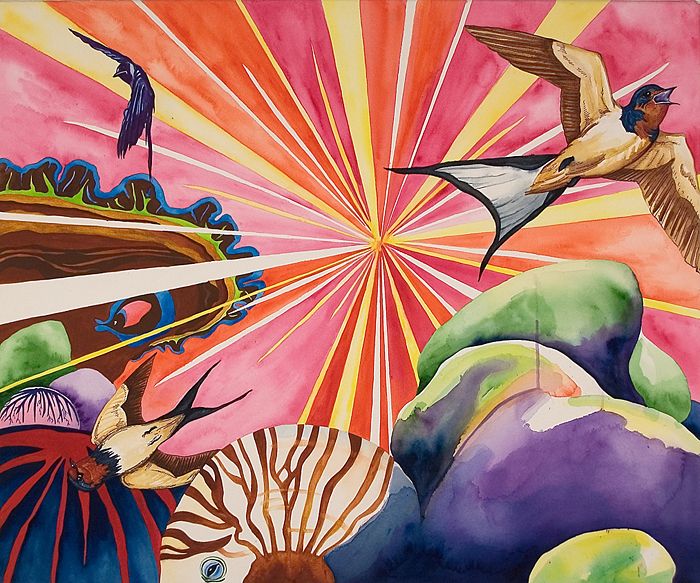 Christopher Reiger
"Sublime Revelation"
2006
Watercolor, gouache, and marker on Arches paper
27 x 32 inches
Welcome to 2009, everyone! I'm feeling very good about the year of the ox.
I have three quick announcements to make.
1)
This past Tuesday (12/30/08),
I was the featured artist
on
Artist A Day
. The feature is something of a belated birthday present; I reached my 31st anniversary on December 29th. If you visit the site, please take a second to rate my work (on the right side of the page), as I'd like the feedback. Better yet, add a comment.
2)
On the same day,
Flavorpill
used a detail of one of my earlier paintings - 2006's 'Sublime Revelation" - for
it's New York edition
banner (Issue 447, December 30th). Although some of the information included in the associated bio is a bit out-dated, this was another pleasant surprise.

3)
I will now be an (ir)regular contributer to
Letters From the Inquisition
.
Michael McDevitt
, a friend and professional peer for over a decade, invited me to contribute over a month ago, but I'm only now getting around to writing some posts. Michael and I met in 1996 at the College of William & Mary, in Williamsburg, Virginia. During our time at William & Mary, we co-founded
Synoddity
, a cross-disciplinary arts organization.
Synoddity
championed generalism over specialization but, acknowledging that our current body of knowledge is increasingly divided and sub-divided, encouraged conversation and exchange across fields. In many respects,
Letters From the Inquisition
is similarly inclined, and I'm pleased to be a part of it.