On Paul Klee and Ali Banisadr
Paul Klee
"Ancient Sound, Abstract on Black"
1925
Oil on cardboard
15 x 15 inches
"The work probes me, reads me, asks me questions, makes demands. If we see and acknowledge this connection between ourselves and works of art, art isn't merely a distraction, it is a means by which we begin to understand ourselves. Marcel Proust wrote, 'In reality, every reader is, while he is reading, the reader of his own self.'"

-Dr. Alan Jones, Reimagining Christianity
This weekend, I pulled G. Di San Lazzaro's biography of Paul Klee off my bookshelf, hoping to draw some inspiration from reproductions of the artist's paintings and drawings. As I thumbed through the book, however, various passages caught my eye, and I ended up reading much of Lazzaro's account.
Lazzaro stresses Klee's desire to achieve a "purity of expression." The artist apparently characterized his art-making as a relationship with "the very heart of the Universe," and Lazzaro provides quotations from art historians and personal associates of Klee that further elucidate the artist's mystical motivation.
"For Klee art was always cast 'in the image of creation'...The artist rummages in Creation's property box. There is nothing which does not serve him, nothing which does not come into his game - art and its oldest remnants such as inscriptions, mosaics, Assyrian tablets, cracked pottery, imaginary ideograms, graffiti; nature with its various processes and chance effects - its striations, strata and maculations, the slow wear of time which in the thinnest fragment of rock imitates the work of the human hand. The hand, in its turn, Klee said, must be 'the instrument of a distant past.'"
-Pierre Volboudt, Kandinsky

"Klee's world is [not] grotesque but mystical...For Klee, as he said to me in 1919, art was not there to reproduce the visible but to render visible what lay hidden beyond the visual world. He remained faithful to this doctrine and brought its deep meaning to fruition until, after passing through many intermediary stages, he achieved in his pictorial world...essential beauty."
-Carola Giedion-Walker
Yet, of the many 20th century artists that heroically championed the unconscious and the archaic, Paul Klee is perhaps the only one that your grandmother loves. Why? Because his paintings are colorful and inoffensive and, when not abstract, feature charming hieroglyphs, animals and stick figures.
Art writers most often describe Klee's work as "whimsical," "precious," even "child-like," but Klee disdained such mundane interpretations of his work. He dismissed "the legend of the childishness of my drawings" as the result of his attempts to "show man [not] as he is but as he might be."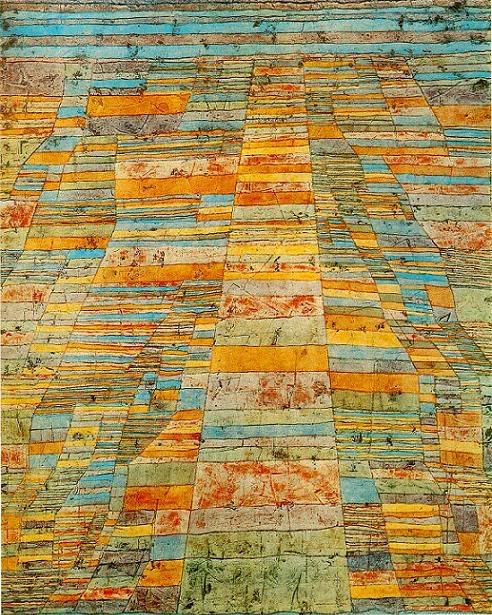 Paul Klee
"Highways and Byways"
1929
Oil on canvas
32 5/8 x 26 3/8 inches
Contemplating the disparity between Klee's stated intention and the general reaction of his viewers, I recalled something that I wrote in the comments section of
a recent post
.
"Art is subjective...and I feel that a viewer's experience and interpretation of an artwork is as informative and vital as the intention and creation of the artist. It's a conversation."
In short, the viewer plays a substantiative role in the life of an artwork.
Does this mean that Klee was wrong to assert his mystical motivation in the face of popular resistance? Not necessarily. Many artists sense Klee's profound striving. Undoubtedly, Klee would have approved of
Bridget Riley
's assessment of his paintings as "the process of things coming into being" and, in my art taxonomy, he is more closely related to the mythically-inclined
Mark Rothko
than he is to the playful
Alex Calder
.
Nevertheless, the popular response to Klee's work can not be overlooked. Art is a conversation and, in the dialogue generated by Klee, the perspective of artists like myself or Riley is representative of a small minority.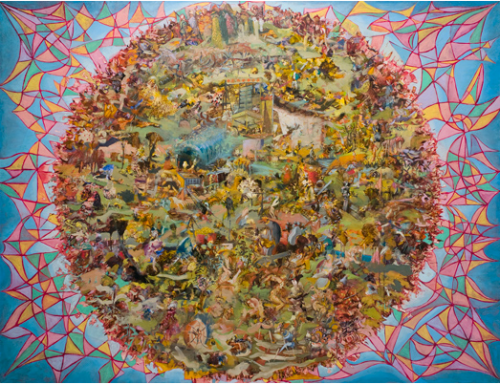 Ali Banisadr
"Target"
2008
Oil on linen
60 x 78 inches
A few months ago, I encountered the young painter
Ali Banisadr
's artwork for the first time. His riotous pseudo-abstractions compellingly communicate the distortions of violent conflict, yet the artist's all-over compositions also manage to effect a meditative state. Indeed, some of the works are mournfully elegiac. (His 2008 painting "Target" is perhaps the most obvious example; the picture acts as a
Yantric
focal point despite being dominated by
a feral garden
scene.)
Banisadr was born in
Tehran, Iran
, in 1976. His family lived in the city during the
Iran-Iraq War
and he states that "vivid memories of the bombings that...regularly occurred throughout his childhood" are a principal inspiration for the recent paintings. Banisadr's
2008 solo exhibition
at
Leslie Tonkonow Gallery
received critical praise in a number of outlets, including
The Brooklyn Rail
,
The New York Times
, and
jameswagner.com
. Reviewers usually cited the same forebears and inspirations that the artist lists in the exhibition catalog.
"I want the viewers of my paintings to see history and human behavior at a macro level, by combining a great variety of influences that you can see close-up. Bosch, Brueghel, Persian minatures, memories, literature, history - I want to combine all of these things in my work. When you put all of this in the pot and stir, you create your own mythology."
Indeed, Banisadr combines these ingredients to excellent effect. Looking at the paintings, Banisadr's indebtedness to and admiration for the Dutch masters is immediately apparent, but so, too, is a great heave of ideological love and madness.
But one of Banisadr's paintings provoked an unexpectedly powerful association in this viewer, one that I'm sure Banisadr did not intend to stir into his eclectic pot. I'm fortunate to have neither fought in nor lived in the midst of war. Yet having grown up in the
American South
, I still identify the
American Civil War
as "my family's war." That association may seem disingenuous - the war was fought 150 years ago - but
my homeground
is marked by that terrible conflict in a way that the rest of the country is not. Gravestones in the small cemetery in the front yard of my childhood home speak to the pride Southerners had in their cause. Stonewall Jackson Kellam is among the dead buried in that cemetery. Kellam was a five-month-old baby when he died on October 3, 1868, just a few years after the close of the Civil War. His name honored
Thomas "Stonewall" Jackson
, the prominent
Confederate
general.
The Civil War colors Southern identity, and I am not immune. Although my paternal great-grandparents were a
Hungarian Jew
and Catholic seeking refuge and opportunity in Brooklyn, New York, the other seven branches of my family tree have deep roots in the United States, mostly Scots and Brits who immigrated in the 1600s. At least two of my great-great-grandfathers fought in the Civil War (one for the Confederacy, one for
the Union
), along with several of their brothers, and the records of their service are rather stirring. My great-great-grandfather Wesley Mayes Dance was fatally wounded several hundred yards away from the site of
the "Crater"
at
Petersburg, Virginia
. Wesley fought with The South of Dan Rebels, one of two Virginia regiments that held the Union advance at Petersburg until Southern reinforcements arrived. With bitter pride, I consider the fact that he and his fellow Confederates sealed the defeat of the Union attack on that day, thereby prolonging the war for many months.
Ali Banisadr
"Amen"
2008
Oil on linen
50 x 66 inches
I don't often think about the Civil War, or even about my Southern identity, but in Leslie Tonkonow's gallery space, Ali Banisadr's painting "Amen" resonated for me, above all, as a picture of that history. I conceived of Banisadr's picture as a depiction of the
Battle of Chancellorsville
, one of the bloodiest, most frenzied contests in the war. The painting hums with electric life, yet is also a sad testament to our darker inclinations. I responded to the work with unsettling emotion; taking it in, my eyes stung with restrained tears.
As I departed the gallery, it occurred to me that I would be unable to write about the exhibition without raising my Civil War associations. I worried that this was too personal an experience to discuss, too private an interpretation to inform Banisadr's paintings for readers. If the artist didn't intend his paintings to conjure up Chancellorsville, how could I, in good faith, write about storied recollections of my great-great-grandfathers?
But as Proust reminds us, "in reality, every reader is, while he is reading, the reader of his own self." Artworks compel every viewer differently. More vitally, each individual comprehension of the artwork
completes
the piece anew. Klee's mystical intentions and Banisadr's Iranian memories are only part of the exchange. Art is, after all, a conversation, and a deeply satisfying one at that.
Image credits:
Paul Klee reproductions ripped from
Peplum
and
WebMuseum
; Ali Banisadr reproductions ripped from
artnet
and
Joann Kim
's
UpDownAcross