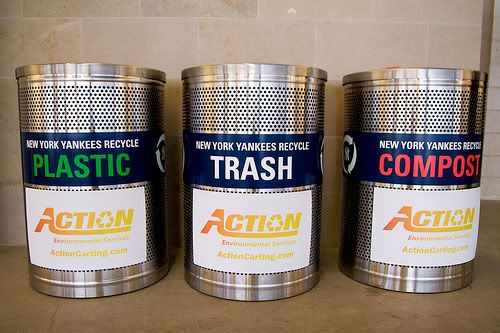 Although this
Cubbies
fan isn't fond of the
New York Yankees
, I spent an enjoyable May afternoon at a ball game in the
new Bronx stadium
. I was pleased to see that the stadium management team is making an earnest effort to be environmentally progressive. The stadium's food containers are
bio-degradable
, and separate waste bins for trash, plastic and
compost
are stationed throughout the ballpark. These bins are labelled clearly and usually positioned next to one another.
Unfortunately, your average baseball fan doesn't know
what "compost" is
. I snapped the below picture of a Yankees fan throwing balled-up napkins into a "compost" receptacle, and witnessed similar mistakes all afternoon. Depressingly, the "plastic" bins fared little better.
Perhaps Yankee Stadium management needs to station waste educators near the bins?
The ticket prices
are surely high enough to cover the cost!
Photo credits:
Yankees waste bins image, ripped from
SeriousSeats.com
; fan abusing compost picture,
Hungry Hyaena