Ward Shelley
"Autonomous Art, ver.1"
2007 - 2009
Oil and toner on mylar
24 1/4 x 36 inches
"
Who Invented the Avant Garde - and other half-truths
,"
Ward Shelley
's recent solo exhibition at
Pierogi
, is comprised of striking schematic paintings that anatomize the development of intellectual and social streams within
the humanities
. The artist describes them as "attempts to use real information to depict our understandings of how things evolve and relate to one another, and how this develops over time."
In spirit as well as in appearance, then, Shelley's paintings are cousin to
phylogenetic trees
, the
taxonomic
diagrams that biologists use to denote
evolutionary relationships
among species. But, though Shelley's genealogies look like mappings of biological exuberance, the subjects of his brightly colored, illustrative works are not so scientific:
Frank Zappa
;
Beat Generation
writers; nodes of
postmodern philosophy
;
modern art movements
.
Importantly, even as Shelley strives to elucidate these cultural begats (whether a seed that becomes a trunk or an ill-fated offshoot), the artist acknowledges that a subjective filtering of "the facts" is central to his paintings. He writes,
"[...] We know this content is mediated in a thousand ways before it takes shape in our awareness. Moreover, content is also shaped by the receiving mind which, as a pre-existing form itself, exerts a strong shaping influence."
Unfortunately, although Shelley's project is intelligent and the stylized diagrams he produces are visually remarkable, his subject matter will appeal to a narrow band of viewers. The afternoon that I visited the Pierogi space, a thirty-something couple contemplated each of the works at length, earnestly discussing an array of topics including the career trajectories of obscure members of
Andy Warhol
's entourage,
Francois Truffaut
's filmography, and
Nixon-administration
flunkies. Their exchange was more a trivial cataloging than a conversation and, in style and substance, they struck me as a sendup of
the well-educated hipsters that populate Williamsburg, Brooklyn
.
There are far more interesting things to discuss than the 20th century's pop-political canon and Shelley's most rewarding pieces - "Autonomous Art, ver.1" and "Counter Culture, ver.1," for example - consider significant, sweeping lineages. I hope that his lens continues to broaden.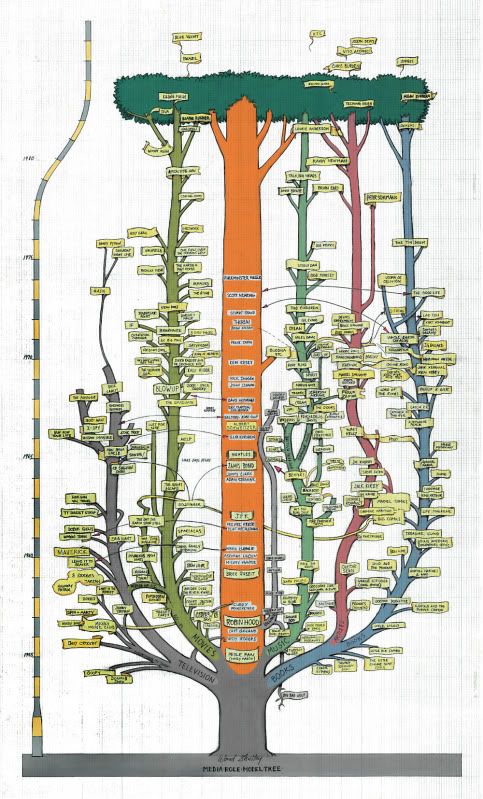 Ward Shelley
"Autonomous Art, ver.1"
2007 - 2009
Oil and toner on mylar
24 1/4 x 36 inches
Image credits:
copyright, Ward Shelley