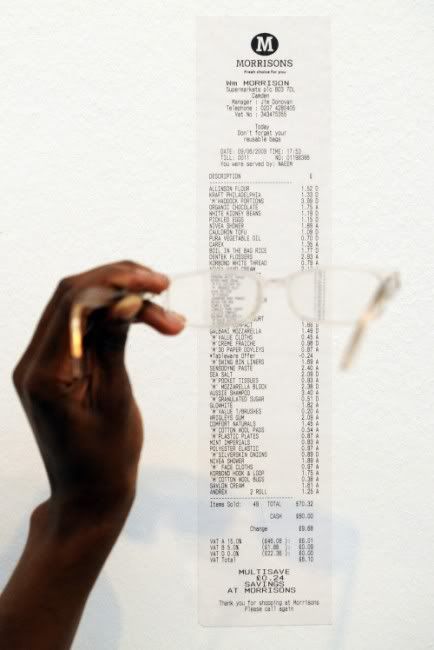 Ceal Floyer
"Monochrome Till Receipt (White)"
2009
Supermarket receipt
Dimensions variable
London
's
Tate Britain
recently purchased a curious piece of conceptual art for the Tate's permanent collection. Artist Ceal Floyer's work is, in fact, a grocery receipt, and the museum's acquisition of the piece is generating a wide range of response from the greater art community.
From
The Daily Mail
:
"Pakistani-born Miss Floyer, 41, who graduated from Goldsmith's art college in London in 1994, describes the work as a modern still life where objects are imagined rather than shown.

[...] Exhibition curator Andrew Wilson [...] called the piece 'an imaginative leap of faith from the daily drudge of going to the supermarket to the idea of the domestic still life painting, but also with the supposed purity of Modernist monochrome abstract painting'."
Read the full article
here
.
In our celebrity-obsessed world, any press, as the saying goes, is good press...but is Ceal Floyer's receipt
art
? And, if so, is it good art?
You make the call.
Photo credit:
photograph, copyright CA; ripped from
The Daily Mail
website