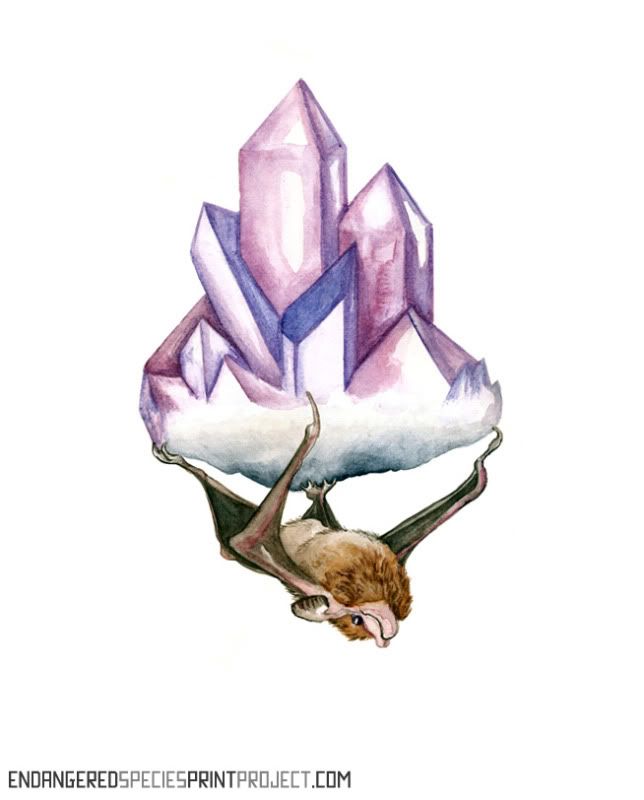 Molly Schafer
"The Seychelles Sheath-tailed Bat"
2009
Archival giclee print (Edition of 37)
8 x 10 inches
Chicago
-based artists
Jenny Kendler
and
Molly Schafer
recently launched
the Endangered Species Print Project
. The ESPP offers limited edition prints of
critically endangered species
for sale to collectors, and
ALL
proceeds are donated to conservation programs working to perpetuate the featured species. For each print edition, the total number of prints corresponds to the featured animal's current population. For example, only 37
Seychelles Sheath-tailed bats
remain in the wild, so for that edition, 37 prints will be produced.
The ESPP is already generating buzz.
The Center for Biological Diversity
and
The Sierra Club
are both
promoting the project
and have expressed interest in collaborating with Schafer and Kendler. I'm not surprised. The ESPP is a terrific undertaking, a fine example of the sort of environmentally and socially responsible efforts
that I dearly wish
more contemporary artists would involve themselves with.
As such, I'd promote ESPP even if I
weren't
planning to produce some prints for the project. I expect to produce two original drawings that will be turned into prints before the end of this year. My subjects will be the
Javan, or Sunda, rhinoceros
(
Rhinoceros sondaicus
) and the
red wolf
(
Canis rufus
). Also, in 2010, I hope to produce prints featuring other endangered species, including some birds, reptiles, and plants.
Prints of the following species are already available: the
Panamanian Golden frog
(
Atelopus zeteki
); the
Vancouver Island Marmot
(
Marmota vancouverensis
); the
Seychelles Sheath-tailed bat
(
Coleura seychellensis
); and the
Indri lemur
(
Indri indri
). Visit
the ESPP site
to learn more.