I wrote the following short essay for the exhibition catalog that accompanies
Nathan Abels
' "Natural Causes," currently on display at
Rule Gallery
, in
Denver, Colorado
.
+++++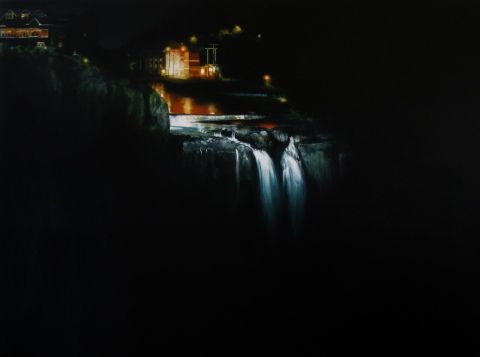 Nathan Abels
"Sullen Roar"
Acrylic on panel
36 x 48 inches
2009
At the extent of the campfire's reach, we glimpse a shadowed form. Then it is gone. What is it that we saw there, at the light's limit? In that instant of vague apprehension, before our mind has had time to interpret the stimulus, we are
John Dewey
's "
live animal
," a creature "fully present, all there, in all of its actions: in its wary glances, its sharp sniffings, its abrupt cocking of ears." The "live animal" mode is often awakened by an alarming sight or sound, but it can also be brought on by a rush of emotion or any substantial sensual experience. If we remain attuned, "fully present," our nurtured sense of self may be blurred, even surrendered, and the scrim of conventional, acculturated understanding is ruptured. We recognize that transcendental mysteries and primordial presences are located in ordinary experience, and that our mundane perception of the material world is incomplete. We see the world anew, boundless and beautiful.
Nathan Abels' artwork is concerned with such transformative breakthroughs. Many of his works juxtapose the primeval with the temporal. "Wildfire" pictures the moon, our planet's celestial companion, serene above a raging forest fire, a violent agent of ecological transformation, both destructive and renewing. In "Sullen Roar," the lights of human infrastructure glow like our aforementioned campfire, but the riverside outpost is surrounded by an opaque darkness. Abels reminds us that the hum and pulse of human civilization amounts only to a footnote when considered within a more holistic context. Other works, such as "Passage" or "Half-Seeing," picture moments of potential rupture, opportunities for personal transfiguration. In "Passage," a spelunker slides on his back through a narrow section of cave. His headlamp illuminates the low ceiling. The confined space would make even the least claustrophobic among us uncomfortable, and the viewer senses the spelunker's powerlessness. Such an experience, like the wildfire, can be at once annihilative and regenerative. It is a subjugation of the self, a recognition of the infinitesimal reach of our individual vision, yet also an expansion of our vision to include the infinite variety and scope of being.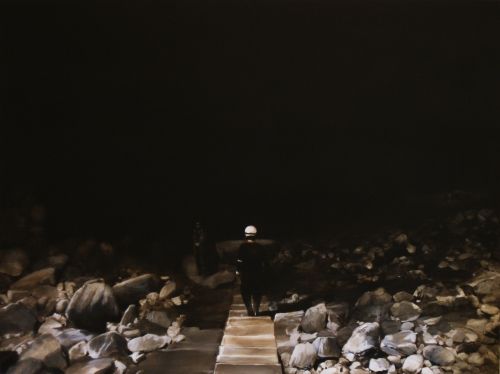 Nathan Abels
"Half-Seeing"
Acrylic on panel
36 x 48 inches
2010
Abels refers to his paintings and drawings as "visual pauses" in an otherwise "persistent turbulence." To be sure, our contemporary landscape is a turbulent one: industrialized, globalized, and digitized for maximal efficiency and consumption. We are so burdened by stimulation as to be deadened to the underlying reality of each moment and every place. Abels' "visual pauses" are a response to our routine mindlessness; the artist provides the viewer with opportunities to regain focus, to intuit the unfathomable in the worldly. His drawings and paintings are pictures of transitional experiences at the edge of known and unknown.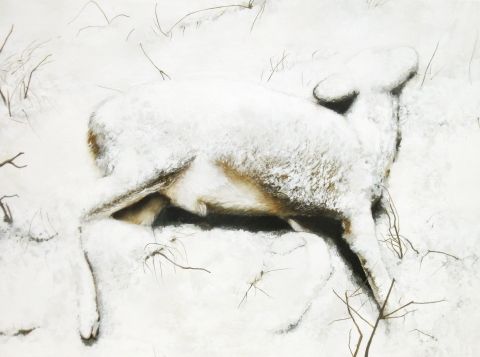 Nathan Abels
"Denouement"
Acrylic on panel
36 x 48 inches
2009
Image credits:
courtesy the artist