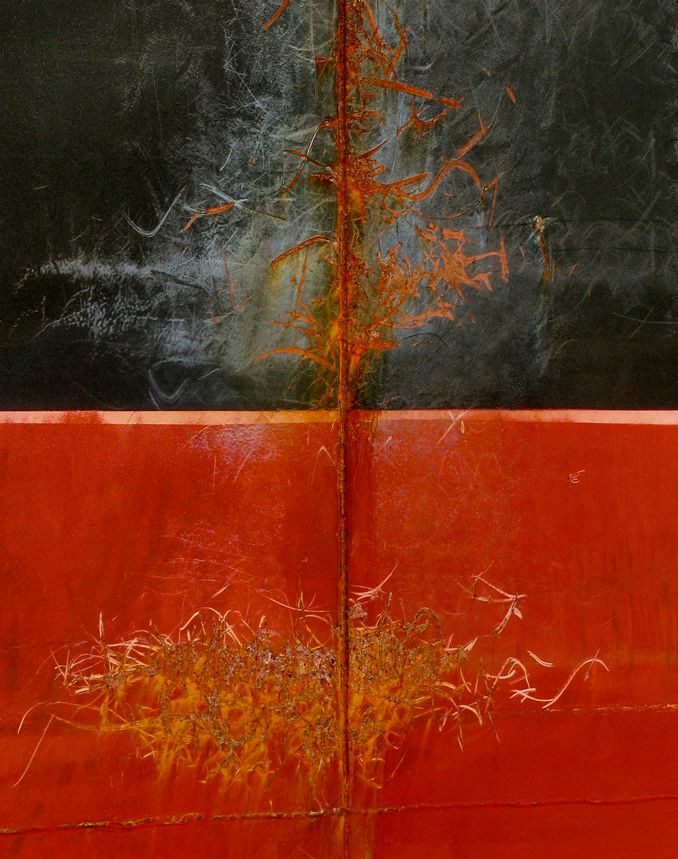 Jan Tiura
"sea song"
2011
Archival pigment print
36 x 30 inches
Bay Area
native
Jan Tiura
half-jokes that a high school sailing trip from
San Francisco
to the
Galapagos Islands
and back, a voyage of some 6,600 miles, "ruined her for indoor work." Fortunately, Tiura eventually found maritime employment on
San Francisco Bay
's tugboat fleets, and, not long thereafter, became the first woman to captain a Bay tugboat, a position she held for over 30 years, until her retirement in 2010. During the decades she spent at tugboats' helms, Tiura regularly photographed the container ships and oil tankers that she helped guide into and out of port. The weathered hulls of the vessels were a favorite subject; 14 of Tiura's "Hulls" pictures are currently on view at
Dickerman Prints
.
Tiura has a keen eye, and she frames for us the remarkable beauty that she observed on the job. In "pirate II," the discoloration of the ship's paint by the action of salt water and sunlight over time creates captivating alchemical abstractions. In "Oslo II" and "sea song," the scratches, gouges, and furrows into the ships' steel skin call to mind the best of
Cy Twombly
's gestural mark-making. The "Hulls" photographs are enriched by the knowledge that the beauty Tiura documents is the effect of a working boat's full, hard life.
Jan Tiura
"pirate II"
2011
Archival pigment print
30 x 30 inches
The prints were produced in collaboration with Seth Dickerman, and the exhibition's press release celebrates the results as "a testament to modern photographic technology's ability to create high-quality, large-format works of art from incredibly small and low-resolution digital files." The prints on display average about 30 x 30 inches, and they look terrific from 3 feet away; on very close inspection, however, the details are pixelated and slightly blurred. Unfortunately, no matter how talented the printer, a small digital file can only be pushed so far. In future editions, I hope Tiura and Dickerman will scale down the print size; the pictures would still sing at 20 x 20 inches.
Jan Tiura's "Hulls" is on view through December 11, 2011, at Dickerman Prints (3180 17th St, San Francisco).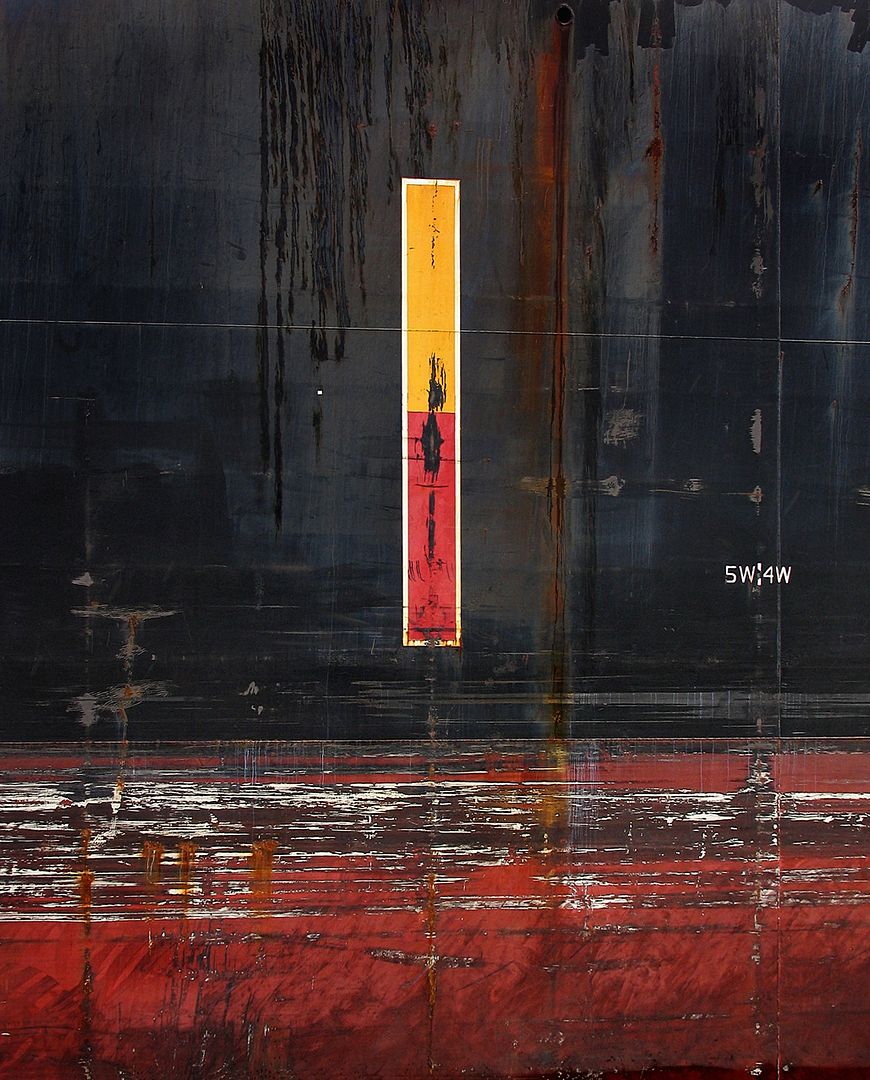 Jan Tiura
"5W/4W II"
2011
Archival pigment print
36 x 30 inches
Image credits:
Jan Tiura photographs, courtesy Dickerman Prints