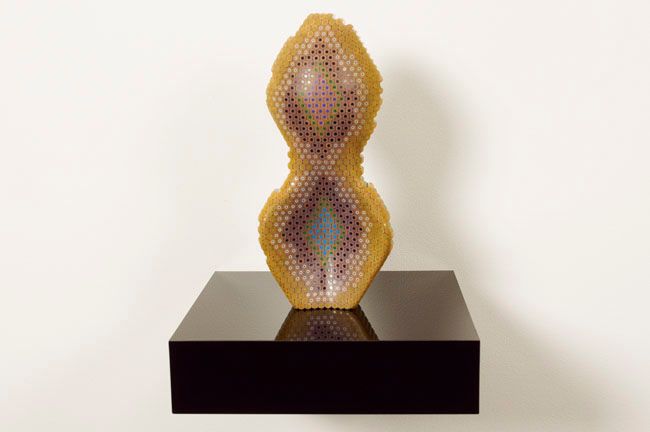 Lionel Bawden
"Flipside (II)"
2011
Colored Staedtler pencils, epoxy, and incralac on black Perspex shelves
12.25 x 5.25 x 3.5 inches
All of the sculptures exhibited in "
The World of Surface
,"
Australian
artist
Lionel Bawden
's recent solo show at
Frey Norris Gallery
, are constructed using colored pencils. Bawden painstakingly epoxies the pencils together and carves them into a variety of colorful forms. Some of the resulting artworks pour off their wall-mounted shelves like melting candles. Others are small totems with geometric,
mandala
-like patterns that evoke
Georgia O'Keefe
's
sensual flower paintings
as well as the indigenous art forms of Bawden's native country.
"Flipside (II)" and "Gatekeeper (II)," the strongest works in the exhibition, belong to this latter type, and their kinship to
Australian Aboriginal art
forms like
basket weaving
and
bark painting
is manifest not only in their patterns and Bawden's consummate craftsmanship, but also in the sculptures' earnest desire to function as sacred objects, vehicles of meditation and trance.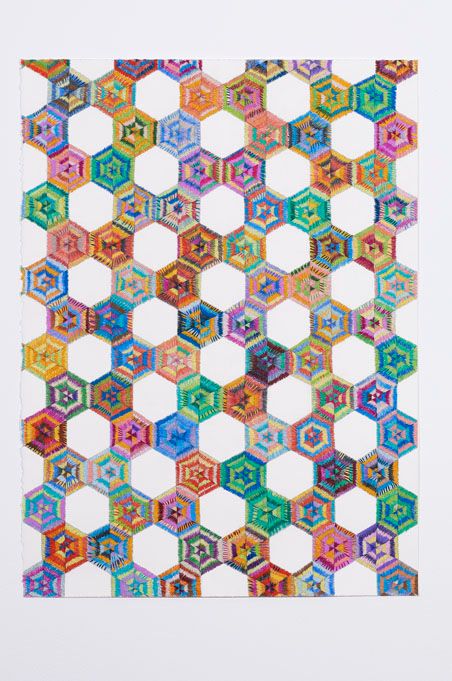 Lionel Bawden
"jewel linking (dense field)"
2011
Colored pencil & ink on paper
30 x 22 inches
Even viewers who dislike Bawden's work must acknowledge his skill, but the pencil sculptures' material novelty (their "neato" factor) risks their dismissal as schtick. Wisely, Bawden included 5 works on paper in "World of Surface." Although his drawings aren't as peculiar and interesting as his sculptures, Bawden's decision to enlist different materials in his exploration of repetitive processes is a good one. Each of these drawings features a honeycomb array of carefully rendered, multicolored hexagons. They're almost garish, and the imagery isn't particularly compelling, but Bawden is most concerned with creating a record of his patient handiwork, and the "World of Surface" pictures can be seen as a design-conscious riff on jail wall hash marks.
Lionel Bawden's "The World of Surface" was on view October 1 - November 26, 2011, at Frey Norris Gallery (161 Jessie Street, San Francisco).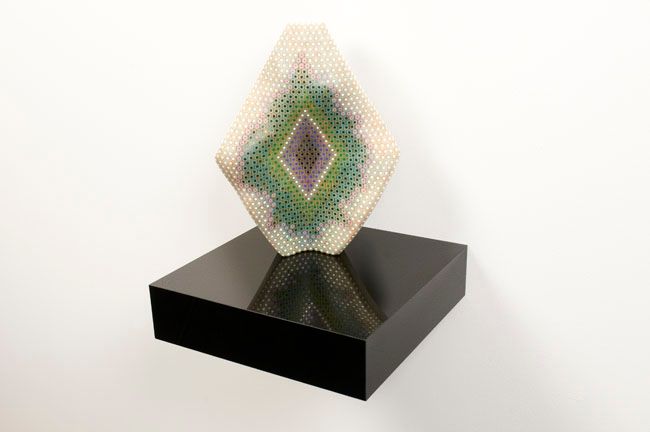 Lionel Bawden
"Gatekeeper (II)"
2011
Colored Staedtler pencils, epoxy, and incralac on black Perspex shelves
11.5 x 9.25 x 4.25 inches
Image credits:
Lionel Bawden images, courtesy Frey Norris Gallery