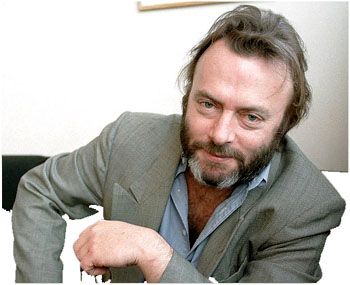 "I personally want to 'do' death in the active and not the passive and to be there to look it in the eye and be doing something when it comes for me."

- Christopher Hitchens
Christopher Hitchens, like
G.K. Chesterton
, was one of the best polemicists of his day. Given his penchant for stridency, I frequently reacted against the moralistic lengths to which he took his arguments, but I was always impressed by his erudition and craft. He was a joy to read.
Also
like Chesterton
, Hitchens had
unconfronted dragons
; his robust ego and his tendency to bully intellectual inferiors (as he too often did when wearing
his New Atheist hat
) were significant shortcomings, but they didn't stop me from relishing his work.
Hitchens
died yesterday
of
pneumonia
, at the age of 62, after a prolonged fight with
esophageal cancer
. Writers and readers should lower their
flags to half mast
.
For a nice collection of Hitchens' essays, visit
Tablet
's roundup, "
Just Enough Hitch, For A Day
."
Addendum:
I opened this brief eulogy by likening Hitchens to Chesterton. Two days ago, when I wrote the above, I didn't realize that one of Hitchens' final deadlines was a review of
the new biography of Chesterton
by
Ian Ker
. I learned this fact in the course of reading
Ian McEwan
's
moving tribute to Hitchens
in the
New York Times
. For those who, like me, mourn the loss of a keen, energetic spirit and intellect, I can't recommend
the McEwan piece
enough.
Image credit:
ripped from
Philebrity.com