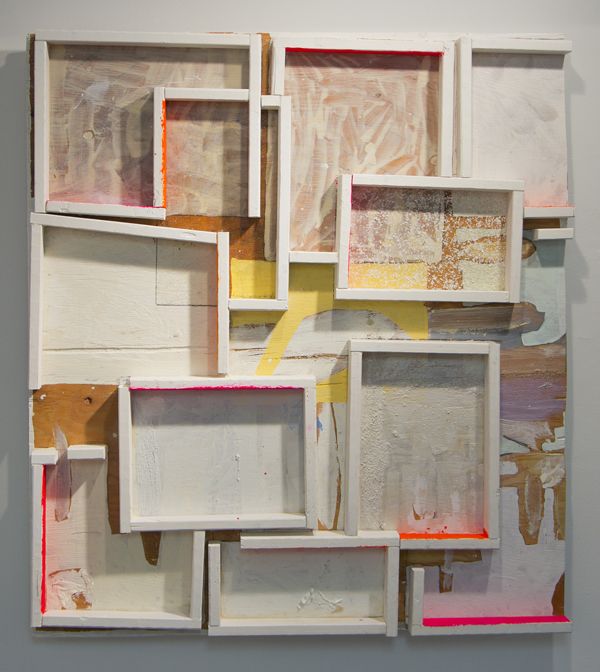 Cordy Ryman
"Shadow Boxed"
2011
Acrylic, enamel, and graphite on wood
38 x 33 1/2 x 3 1/2 inches
Using staples, tape, crudely cut blocks of wood, and other modest materials,
Cordy Ryman
creates painting-sculptures that explore the interaction of color, light, and line. The DIY appearance of Ryman's artwork belies the sophistication of his enterprise. He's taken a page from the
Light and Space
playbook (note Ryman's attentiveness to
light refraction
), but his primary preoccupation is graphic and compositional.
Kin to the painter
Thomas Nozkowski
,
who last year told the

New York Times
that "a painting is finished when I finally understand why I wanted to do it in the first place," Ryman engages his materials as if they were collaborators, allowing compositions and designs to reveal themselves over time. In his words, "the process dictates its own direction and evolution." We can't know if this approach is arduous or easy (it's likely both), but Ryman's works almost always appear playful.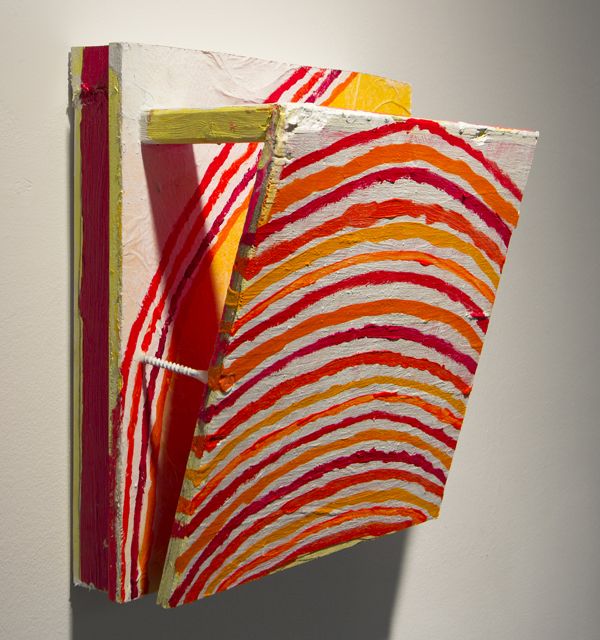 Cordy Ryman
"Tangerine 75"
2011
Acrylic and enamel on wood, screws
11 3/4 x 10 1/2 x 5 3/4 inches
The best of Ryman's creations radiate an electric -- almost manic -- energy. A number of these successes are on view in
the artist's current solo show
at
Eli Ridgway Gallery
. "Luca," "Shadow Boxed," "Bumble," and "Rose Meridian" are standout works. No less interesting, however, are the middling pieces included in the exhibition. Consider "Tangerine 75." The artwork isn't, on the whole, a star, but the sum of its parts is intriguing; I returned to it several times during my gallery visit, always finding something new to admire or react against.
Ryman's willingness to fail -- and to share his failures with us -- is refreshing and important. Seen alongside their stronger relatives, apparent missteps like "Can Bottom Redline" and "Sun Staple" inform viewers' understanding and appreciation of Ryman's greater project.
Cordy Ryman's work is on view at Eli Ridgway Gallery (172 Minna Street, San Francisco) through December 22.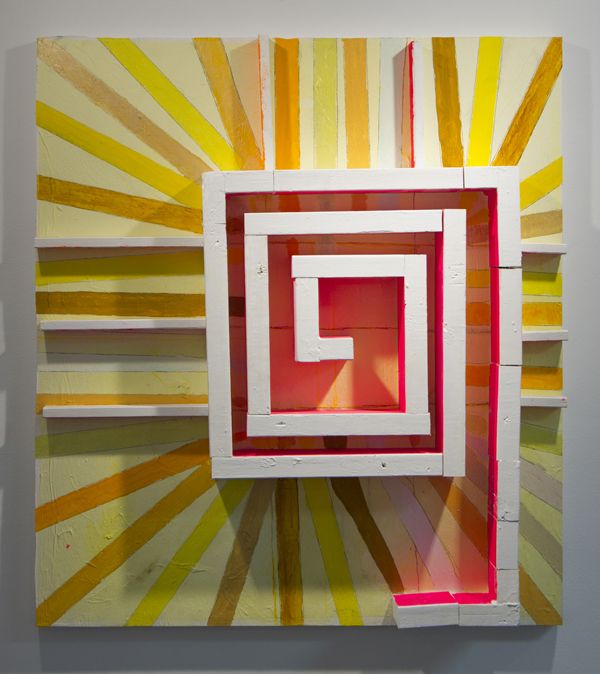 Cordy Ryman
"Luca"
2011
Acrylic, enamel, and graphite on wood
40 3/4 x 35 1/2 x 5 inches
Image credits:
Cordy Ryman images, courtesy Eli Ridgway Gallery