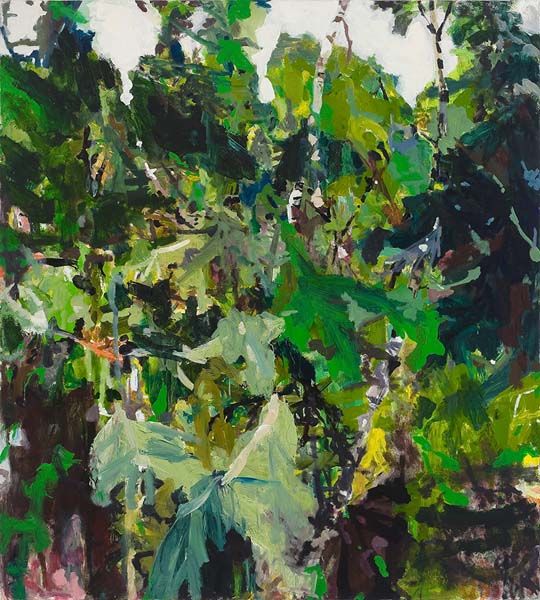 Allison Gildersleeve
"Giants"
2011
Oil and alkyd on canvas
60 x 54 inches
Last week,
I observed
that
Kota Ezawa
's animated video, "
City of Nature
," "mov[es] from pastoral visions [...] to more abstract, riotous scenes of muted colors and shapes -- piles of leaves and tangles of branches that aren't at once recognizable."
Allison Gildersleeve
is currently exhibiting similarly "riotous" visions of nature in "
Let Me Show It To You Unfixed
," at
Asya Geisburg Gallery
, in
New York
. From the press release:
"Gildersleeve starts with the ubiquitous and the known, and ends with the deliriously unfixed. All we are left with are discrete moments of seeming understanding and placement, and open-ended wandering. Instead of fixity, paint's murky mushy squishyness reigns victorious."
Some of Gildersleeve's paintings are too murky and squishy -- these lose the dynamic tension between subject and rendition -- but her best paintings crackle with energy, vigorous hybrids of paintings by (the undersung)
Amy Talluto
and
Cecily Brown
. Plus, Gildersleeve has one of the coolest surnames in contemporary art (and that's fact, not opinion!).
Based on the gallery reproductions, I've included images of the show's two strongest paintings here.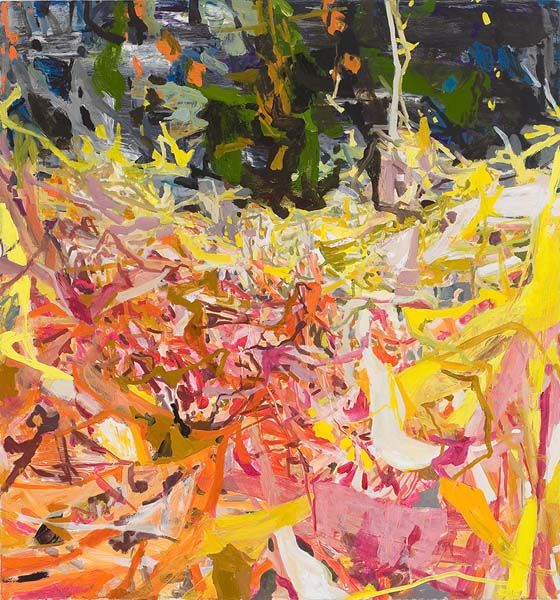 Allison Gildersleeve
"Candyland"
2012
Oil and alkyd on canvas
58 x 54 inches
Image credits:
Allison Gildersleeve images "borrowed" from Asya Geisberg Gallery website