Platte Clove residency cabin, Catskills Mountains
From the residency's press materials:
"[The Platte Clove residency is] a retreat for artists, working in a variety of disciplines, located in the living landscape where American art began. Situated at the Catskill Center's Platte Clove Nature Preserve, artists will reside in a rustic cabin in the middle of 208 wild, pristine acres full of hiking trails, multi-tiered waterfalls, and old growth forests."
If, when viewing the region's topography from above (think Google Maps), you imagine the
Catskill Escarpment
, the rugged northeastern range of the Catskill Mountains, to be a flexed arm, the Platte Clove cabin is located in the crook of the elbow. Though little known by name, the escarpment (and the elbow "crook," in particular) is one of the most celebrated landscapes of the
United States
. Made famous in the mid-19th century by
Thomas Cole
and other
Hudson River School
painters, Platte and
Kaaterskill Cloves
were, for a time, celebrated hotel destinations for New York City aristocrats; today, they're most popular with hikers.
Since I'll be hitting the trails, I expect to cross paths with quite a few fellow outdoorsy types, but I also hope to see abundant bird life,
white-tailed deer
, and maybe even a
black bear
. Being a
herp enthusiast
, I'd also love to encounter a
timber rattlesnake
. The only area residents I hope to avoid are
deer ticks
. The recipient of countless tick bites over the years, I've already been infected with
Lyme Disease
once (it was easily knocked out by a course of
antibiotics
), but I'd prefer not to deal with it again.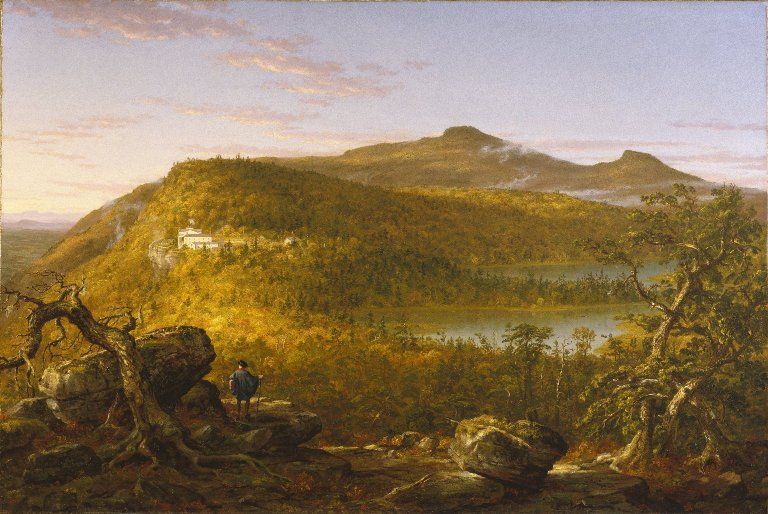 Thomas Cole
"A View of the Two Lakes and Mountain House, Catskill Mountains, Morning"
1844
Oil on canvas
36 x 54 inches
During my four days in the Catskills, I'll shoot photographs, hike, read, create some painting/drawing studies, and keep a journal. The journal component of the project will detail my daily activity and species encounters, but will also include musings on the intersection of
conservation
and art. During my earlier residencies at the
Kimmel Harding Nelson Center
, in
Nebraska City, Nebraska
, and
Florida
's
Everglades National Park
, I was able to provide
HH
readers with regular updates. (You can read the KHNC posts
here
; Everglades posts
here
.) The Platte Clove cabin lacks an Internet connection, however, so I don't expect to post anything until after my return to
San Francisco
. (The cabin also lacks running water, so, after several long days on the trails, I expect to be a little ripe, rolling back into
the Big Apple
looking and smelling like
Grizzly Adams
.)
More to follow.
Image credit:
Platte Cove cabin photo ripped from CatskillSearch.com