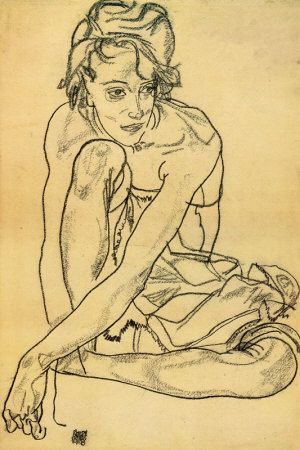 Egon Schiele
"Woman Crouching"
1918
In
a post
that appeared here in August 2005, I touched on my longtime love of
Egon Schiele
's paintings and drawings. I wrote,
"[In my teens, as] I learned more about the work of twentieth century art world luminaries, I came to love the paintings of Egon Schiele, Max Beckmann, and Francis Bacon. My attraction to these three artists should have come as no surprise, but it would be several years before I realized what these three painters share: a bold, graphic approach to contour and color. They are illustrators' painters every bit as much as they are painters' painters; their work points to the absurdity of the distinction."
I still adore Schiele's figures and landscapes. Although I no longer refer to him as my favorite artist, he remains a major figure in my pantheon.
Imagine my delight, then, when I discovered this morning that
Alice Jones
, a young artist in
New Zealand
, cites Schiele and
me
as her favorite artists in
a video Q&A she posted to her blog
. (Thanks for the nod, Alice! I'm thrilled that my pictures speak to you.)
Sometimes, working in relative obscurity and lorded over by self-doubt, I find myself wondering how so many artists march on (to the beat of their little drum) despite professional uncertainty and risk. But when, every now and again, you're reminded that your work is inspiring other artists and finding an audience in places you've never even visited...the challenges of a career in the arts are chased back into the shadows, still present, but a little less daunting. (Thank you for that, too, Alice.)
+++++
Tangentially-related -- because it is both inspiring and New Zealand-based -- is
this short television magazine human interest piece
about
my Uncle Tony
, who moved to New Zealand from
Alaska
, purchased a "mudhole" in
Southland
, and over the course of ten years restored it to a healthy
wetland
. From
a print article
about the project,
"Big Lagoon's destruction was not unique, Mr Reiger said. 'It was a casualty of an ongoing war from industry, farming, and other factors against wetlands all across New Zealand,' he said. Today, surrounded on three sides by dairy farms, Big Lagoon provides a safe and natural habitat for nearly 70 bird species and supports a healthy population of short-finned eels. The wetland is also a testament to nearly a decade of hard work from someone who wanted to give something back to his adopted homeland. 'My effort was as much for the habitat and the wildlife the lagoon brought with it but for the people of Southland,' he said."
It's clear that a passion for
conservation
runs in Reiger blood, with
my father
and
both
of his brothers dedicating substantial effort and resources to conservation projects and me, in my sidelong way,
trying to contribute to conservation efforts, too
. Like art-making, conservation work can be daunting and thankless, and I'm sure my uncle is gratified that local news outlets have taken an interest in his work in Southland.
Image credit:
Schiele reproduction ripped from
Voracité Instantanée
tumblr