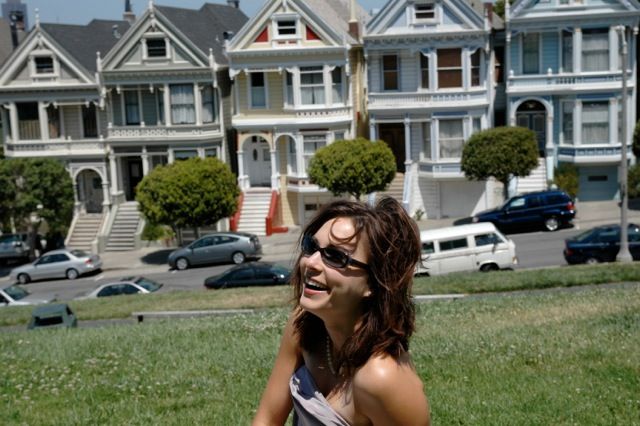 Dr. Indre Viskontas with the the "Painted Ladies"
A couple of weeks ago,
Selene
and I met
Dr. Indre Viskontas
for coffee in the
Fillmore District
. Although Indre's
BAASICS.3: The Deep End
presentation, "Release from Inhibition: The creative impulse in patients with dementia," draws primarily on her
neuroscience
research experience, she is a scientist
and
an artist. She earned a PhD from
UCLA
as well as a Master of Music degree from the
San Francisco Conservatory of Music
, where she now serves on the faculty.
In the course of our conversation, we learned how Indre's experiences as co-host of
OWN
's
Miracle Detectives
buttressed her commitment to
secular humanism
, and about several exciting art and music projects she's currently working on. Mostly, though, we learned about the research Indre did into the workings of creativity in patients with
frontotemporal dementia
.
As Indre put it, "the brain doesn't break." Instead, it "reshuffles," and in many cases that reshuffling results in the loss of one or several skills/abilities -- word comprehension or impulse control, for example -- yet will "enable [the patients] to be better at something" else. Indre stressed that each patient is distinct, but that similarities across the patient body suggest some universal effects; she'll present her findings on May 6.
Indre is also invested in making science accessible to the general public, and Selene and I will be closely following her work going forward.
Image credit:
photo from
Indre Viskontas' website