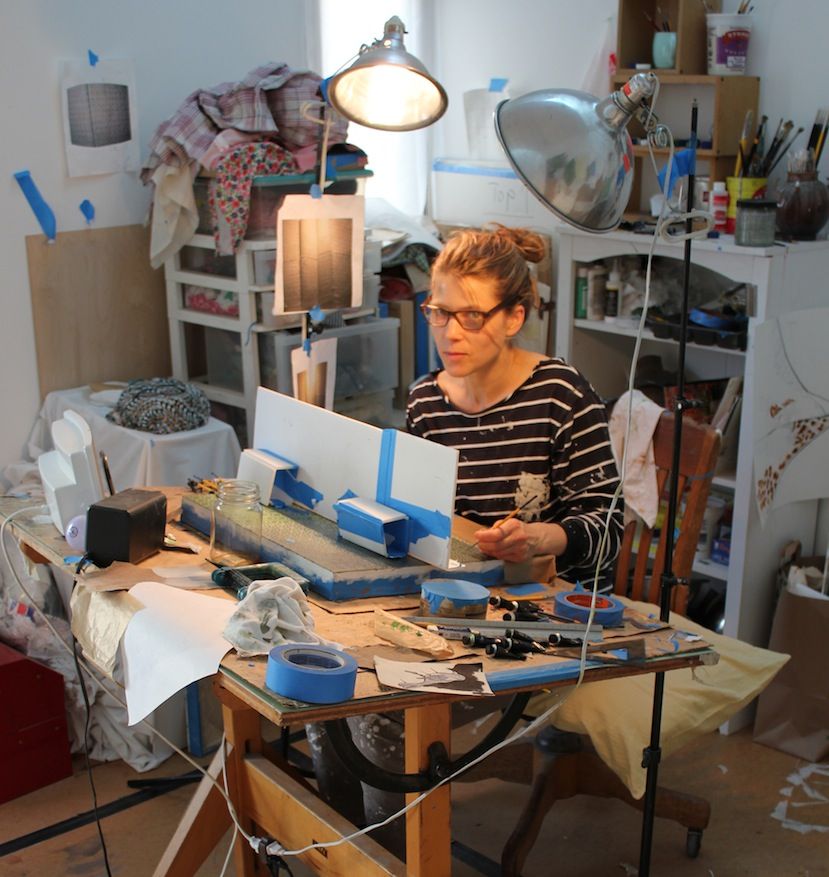 Leeza Doreian at work in her West Oakland studio
A few weeks ago,
Selene
and I met
BAASICS.3: The Deep End
presenter
Leeza Doreian
at her home in
West Oakland
. She and her partner, John, an artist, furniture maker, and contractor, have lived in the house for three years, and are remodeling it in their limited spare time. Shortly after moving to the
Bay Area
from
Brooklyn
five years ago, Leeza began working at
Creativity Explored
, a
Mission
-based non-profit organization dedicated to "provid[ing] artists with
developmental disabilities
the means to create, exhibit, and sell their art."
We sat around Leeza's dining room table, chatting, admiring reproductions of artwork, and sipping coffee in a brightly lit room that opens to her backyard; the liquid warble of a
House finch
punctuated our conversation. Leeza suggested that Creativity Explored and similar organizations -- Creativity Explored,
Creative Growth
, and
NIAD Art Center
are all Bay Area organizations dedicated to working with artists with developmental and/or physical disabilities, and all three were founded by
Florence and Elias Katz
-- aim to help people "access their own abilities."
Leeza described the role of the teaching artist, her official title at the organization, as that of a facilitator. It's not art therapy, she insisted, but "it happens to be therapeutic." One gets the sense this salubrious effect is a two-way street, benefiting both the Creativity Explored studio artists and the teaching artists. Leeza described how freeing she finds the Creativity Explored environment because most people exhibit a healthy lack of self-consciousness, staff included. "I'm generally a shy person," she told us, "but not there."
Please join us on May 6 for Leeza's presentation, "Con-Currents: Creativity, Individuality, and Community." Leeza will share with the audience an overview of a typical day at Creativity Explored, and then showcase the work of five or six studio artists.
Image credit:
courtesy
Leeza Doreian