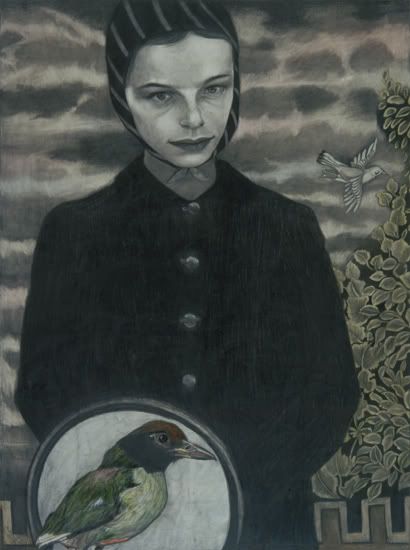 Jenny Scobel
"When One Leaves the Other"
Thomas Erben Gallery
:
Jenny Scobel
's new exhibition features three outstanding works and some duds. "Throw the Rudder Down," "Manhattan Beach," and "When One Leaves the Other" are all beautiful.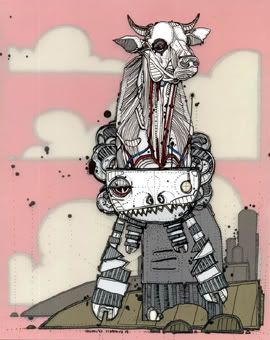 Nicholas Di Genova
"Albino Auroch with Two Legs"
Fredericks Freiser Gallery
:
Nicholas Di Genova
's drawings on layered mylar are spectacular. I'm ready to trade (or steal) to get one of these. Check out
his website
to see some more.
Sara Meltzer Gallery
:
Jason Middlebrook
presents us with some dull, mechanical sculptures of
Pileated woodpeckers
(
Dryocopus pileatus
) and mosaic tree stumps, but his 2-dimensional offerings are far more successful. There were a number of works I would have loved to take home: "The Provider (Turkey Vulture)," "The Provider (Pileated Skull)," "The Provider (House Sparrow in Plaid)," "The Provider, Mallard At Night," "The Provider, Mate For Life," and "The Provider, Black-capped Chickadee."
Friedrich Petzel Gallery
: "Los Angeles," the
new film
by
Sarah Morris
, is a hypnotic portrait of the title city. I am disturbed by how captivated I was, particularly whenever a celebrity appeared on screen.
Jack Shainman Gallery
:
"The Whole World Is Rotten"
places historical photos, documents and Black Panther memorabilia alongside art works, most of which are contemporary. For the most part, the history is far more interesting than the art, but one watercolor painting by Jeff Sonhouse and two photographs by
Margaret Bourke-White
standout.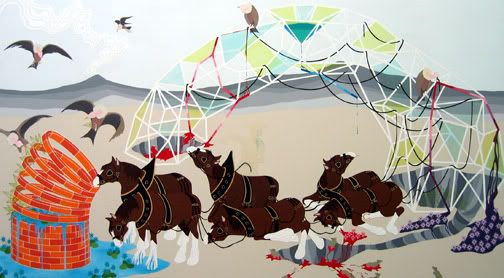 Wendell Galdstone
"Tears of Sadness"
Kravets/Wehby Gallery
: At first glance, the
works on display
by
Wendell Galdstone
seem too tight and simple for my tastes, but after I spend some time with them I grow more fond of his warped little worlds.