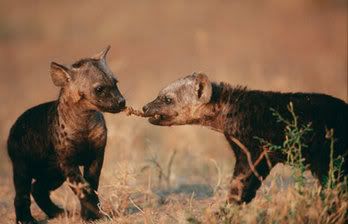 I would be remiss were I not to draw attention to the June 2005 issue of
National Geographic
. "
Misjudged Hyenas
" showcases photographs of
Crocuta crocuta
.
The
Latin name
drips off the tongue; equal parts sensuality and mystery, it sounds almost vampiric, but the animal itself is anything but sensual. In fact, it is in part the raw ugliness of the animal that so attracts me to them. Muscular and equipped with impressive jaws, these slope-backed animals have long been characterized as pathetic, stupid scavengers. This couldn't be more inaccurate an assessment. Biologists have known for years that hyenas are excellent
predators
. More recently, we learned that they have an extremely complex
social hierarchy
, far more sophisticated than that of
lions
and, according to some biologists, approaching that of
ape species
.
More closely related to the
mongoose
than to the
bear
or
dog
, hyaenas belong to the cat-like
superfamily
(or
suborder
, depending on your preference) of
carnivores
,
Feliformia
. Curiously, the spread on pages 62-63 of the June issue makes clear this relationship. In the image, a hyaena has been trapped in a bog by a pair of male lions and they are preparing to kill the smaller predator. The hyaena is covered with glistening mud and rears back in a futile defensive display. Muddied as he is, the physiological similarities between the mongoose and the hyaena are made clear.
At any rate, when I began this blog, I promised a longer post on this fascinating animal. One is forthcoming.
Photo credit:
Anup and Manoj Shah, 2004