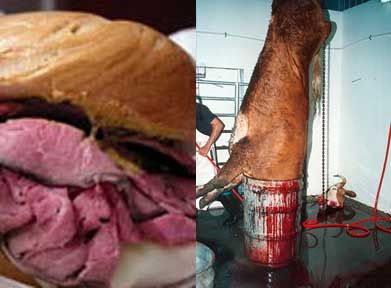 Mikhail, over at
Dirt and Soundwaves
, brought the ludicrous quote below to my attention.
"I was sitting eating lunch the other day with a coworker, and all of a sudden she goes, 'Ug, why do you only have lettuce and tomato on your sandwich.' I replied quickly that I was a vegetarian. She breaks into a huge smile and loudly declares, 'Me too!' ... while eating a roast beef sandwich. I was too awestruck to speak again."
Well, okay then.
Admittedly,
my own dietary restrictions
are unusual – no meat unless I kill (and preferably butcher) the
fish
,
fowl
, or
mammal
myself – but I'm still surprised every time someone assumes that I'll eat purchased fish or
shellfish
. "Are you
vegan
or something?," they'll ask when they learn that I do not.
Perhaps I shouldn't be surprised by their assumption. A few months ago, I read in the
British
scientific journal,
Nature
, that an astounding 20% of the
United Kingdom
's population claims to be vegetarian. I was impressed and encouraged, but a poll that I read more recently explains
Nature
's high figure. Apparently, nearly 75% of "vegetarians" in the UK eat fish, 50% eat
chicken
, and 25% eat
red meat
once a week or more. Evidently the roast beef sandwich girl's imbecilic take on vegetarianism is a common one!
Simply put, a vegetarian diet is that of an
herbivore
. An herbivore doesn't eat fish or chicken and certainly doesn't opt for the occasional sirloin. I realize that some people, especially teens, become vegetarian to be "part of something" while forging an identity, but why must the word be bastardized in the process? If you desire to distinguish yourself in this way, simply say you eat red meat less often than most people do, but don't claim to be a vegetarian. When I traced my genealogy back three generations, I come across a Hungarian Jewish great-grandfather. Technically, then, I'm 1/8 Jewish (genetically), but I can't claim to be a good Jewish boy! How, then, can part-time meat eaters label themselves vegetarian, especially on a census?
I suppose I need to ask myself that question before I direct it at others. My own dietary rules are somewhat paradoxical, so in conversation or prose I take great care NOT to label myself a true vegetarian. I always write or say, "I'm a strict vegetarian unless I catch or kill the creature myself." (By the way, I'd love suggestions for a descriptive term I could use, as the above statement is a mouthful.) On a census, though, there is no such category. What should I mark down? In my case, I think I would check the vegetarian box, especially considering I eat meat once in a blue moon (only once or twice a year). Obviously, I'm one of the guilty group here, but I do think that my case is something of an exception. I will never buy flesh again; if I eat it, I've killed it. I doubt that more than 1% of UK respondents, if that, checked the box for the same reasons I would.
In any event, my frustration boils down to my being a stickler for language evolution. I think it fantastic that 20% of the UK population is eating less meat, but I can't forgive their abuse of the word "vegetarian."