Unlike the last "
Gallery Report
," much of what I saw in Chelsea today left me unmoved. After three hours and twenty plus galleries, I had seen very little of substance. Many of the shows feature half-assed work, as if being lazy is suddenly avant garde. A friend of mine, also a painter, was with me and we ran into another artist I know who describes herself as a conceptual artist. We all agreed that less than 10% of the shows were any good. It just wasn't a good day in terms of quality, though the weather was gorgeous. Even so, my convalescence is not yet over and I was exhausted by 2:00 PM.
The five exhibitions described below all caught my eye for one reason or another and I felt they were worth mentioning, even if the reviews are mixed.
+++++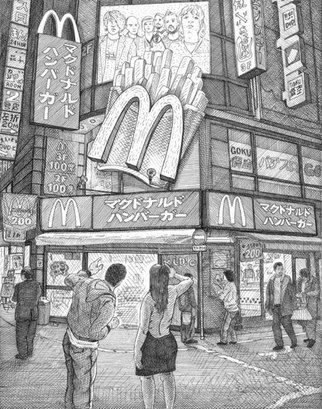 P.P.O.W Gallery:
Sandow Birk
's "Paradiso"
exhibition
features seventy-one original illustrations from his three volume update of Dante's "Divine Comedy." Working with writer Marcus Sanders, the southern California artist has turned Dante's epic into a critique of our contemporary condition. Some of the illustrations are very amusing. Unfortunately, Birk's technique ranges from excellent to sloppy; many of the drawings fail as a result. When Birk's draftsmanship remains tight, though, these illustration/text combos work very well. The text associated with "Canto XX" (pictured above) is:
"The image of that eagle hung in the air in front of me, its wings spread wide, filled with the sparkling, flickering lights of the hundreds of souls."
In some respects, this 42 year-old artist is a younger hybrid of artists Robert Crumb and Art Spiegelman, the man behind "Maus."
+++++
Luhring Augustine Gallery:
Photographer
Gregory Crewdson
first caught my eye several years ago. His magnificent, posed photographs of a surreal American underbelly appeal to my sensibility. Sadly, Crewdson's photographs are becoming increasingly contrived. Where once I accepted his cinematic arrangements without question, they now seem almost digital and I resist entering the pictures. Only two photographs included in "Beneath the Roses," this most recent solo effort, capture my imagination the way his previous work has. One of these, "Untitled, Beneath the Roses," is pictured above.
+++++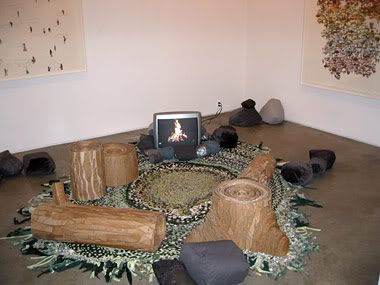 Ziehersmith Gallery:
34 year-old
Karin Weiner
taps into several popular Art World trends with her
second exhibition
, "Frontiera," at Ziehersmith. The works on display are a reaction to the young artist's time at a residency in Wyoming, "in the midst of a male-dominated culture." According to the press release, the drawings, collages and sculptures are intended to "celebrat[e] the natural world and expos[e] our ever distant relationship to it."
I applaud Weiner's intentions and I enjoy some of the work she includes, but Weiner does not set herself apart from the horde of young artists pitching this sort of romanticized take on natural history. I admit that I'm a tough sell in this department. A rural boy by upbringing, I distrust the average urbanites' interpretation of what Weiner calls "modern day cowboys." This bias aside, I also can't help feeling that replacing a traditional campfire with a television screening country-western karaoke is a bit trite. Walking around this sculpture, it seems a desperate substitution, like Oliver Stone's choice to project the words "Too Much TV' on the chests of his "Natural Born Killers." I suppose I'm sold on Weiner's ideas, but not on her execution. ("Campfire Karaoke" is pictured above.)
+++++
Kustera Tilton Gallery:
Jeff Sonhouse
is popping up in more and more group shows, but this is the first
solo show
I have seen. Lauded in many reviews for producing paintings as "politically sharp" as they are visually satisfying, Sonhouse makes the plight of contemporary, American black men his subject matter. His work is uneven, but three of the paintings included in this small show, "The Panoptic Con," are excellent. All the riffing on our racist establishment aside, the successful portraits are just damned good paintings. The best piece on display (I can find no image online) features a man with an afro comprised of spent matches. ("Crossroads" is pictured above, but this painting is not included in the exhibition.)
+++++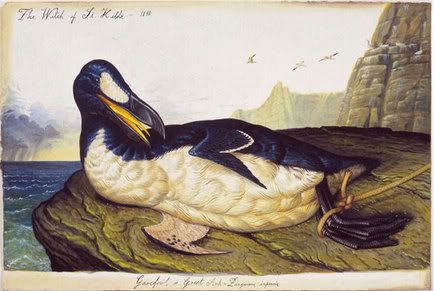 Paul Kasmin Gallery:
The
best show
seen today was
Walton Ford
's latest solo effort. While only six original watercolors (though they can be enormous; one measures nearly 100" x 200") and six prints are hanging, they are stunning. Walton Ford succeeds where Karin Weiner does not. These are paintings that marry the romantic and the realistic, with tremendous results. Ford is definitely among my favorite contemporary artists and I look forward to seeing what the future will bring. ("The Witch of St. Kilda" is pictured above.)