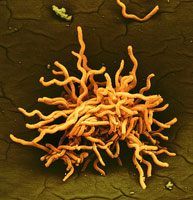 A visit to the doctor this morning confirmed that I have
Lyme Disease
, officially making this my Summer of Viral and Bacterial Love (or SVBL, as medical professionals prefer to abbreviate it). Apparently, "
mono
" and
related viruses
make their hosts more susceptible to other infections for as many as six months after symptoms subside. With luck, I should be able to nail the trifecta and get a
West Nile
infection before the summer ends.
Photo credit:
Borrelia burgdorferi
, the bacteria responsible for Lyme Disease;
Nature, International Weekly Journal of Science