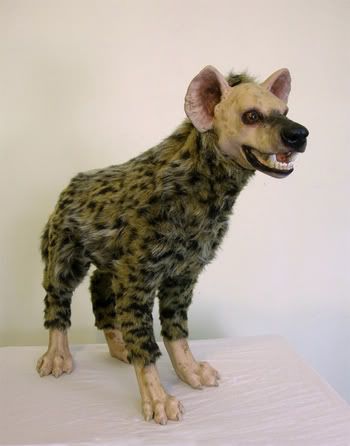 Deborah Simon
"Spotted Hyena" (side view)
2005
Polymer clay, fake fur, paint, wire, and cotton
22" x 30" x 12" inches
This morning, meteorologists made much of New York's "lower than normal December temperatures" for the second consecutive Monday. Personally, I'm lovin' it! In good spirits, then, I thought I would kick off the week by posting a sculpture appropriate to this blog (but not to the cold weather). Read more about the spotted hyena (
Crocuta crocuta
)
here
and
here
.
At present, the sculptor,
Deborah Simon
, is living in
Lucknow, India
, with her husband Rick Connerney, a Phillips Talbot Fellow with the
Institute of Current World Affairs
. Rick was sent to Lucknow to study the "influence and impact of religion on
Indian life and society
."
Before moving to Lucknow from New York City, Deborah had been focusing on painting - I've included a reproduction of one of her paintings below, this one of a
common octopus
(
Octopus vulgaris
) - and she credits her present surroundings with a renewed interest in sculpture. She writes, "Sculpture is more prevalent here - from household shrines to temple carving - it is more a part of the average Indian's life than painting."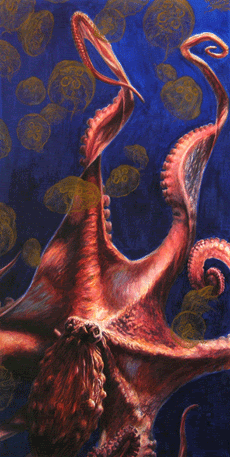 Deborah Simon
"Common Octopus and Moon Jellyfish"
2004
Watercolor and gold
30 x 18 inches
Image credits:
courtesy the artist, Deborah Simon