I missed
Max Schumann
's
July 2005 exhibition
at
Taxter & Spengemann Gallery
. At the time, I wasn't familiar with the artist's work. I learned of Schumann only a month ago, when I read a review of his 2005 New York outing. Curious as to what exactly the reviewer was describing, I visited the gallery's website.
The exhibition press release reads as follows:
"This installation consists of approximately 150 artworks. Each painting is 'signed' with a price, rather than the artist's signature, directly on the painting. As the work is sold it will be removed from the wall, additional work will be added, and the installation will be rearranged in consideration of its new content. To the extent that work is purchased, the installation will be in a constant state of change, and will be realized over the period of the exhibition."
Artist
Matthew Ritchie
, a long time favorite of mine, was a fan of the show. He is quoted in the December 2005 issue of
ArtForum
, saying, "I bought 'Set Yourself Free (Green Zombie)'...for forty-five dollars and felt like I'd just got Manhattan for a string of glass beads." I'd be excited, too, were I to acquire an artwork that I liked for such a low price! Unlike Ritchie, though, my overall reaction to Schumann's exhibition is ambivalent.
Viewing the few paintings displayed on the Taxter & Spengeman site, it becomes clear that Schumann is playing the role of artist-as-cultural-mirror. Rather than condemn or critique his subjects, he merely presents them. The viewer is allowed to absorb the familiar, contemporary images and to make her own value judgments. These judgments won't come as a surprise; after all, viewers know what they think of SUVs, protestors, or
George W. Bush
before they walk in the gallery door.
But this doesn't matter to Schumann. The conceptual centerpiece of the exhibition has little to do with the paintings or even the viewers' reaction to them. Instead, it is the Schumann's sales and presentation model that takes center stage. The artist imitates the crazed economy of the day by embracing a low-cost, high-volume sales model.
"In keeping with his subjects, Schumann works in serial format, creating multiple versions of more or less the same image. As if to highlight the random rules of the economy of horror and violence, the gallery price for approximately identical works might be $10, $60, or $600. As works are sold, they will be removed while new works will be continually replenished with the exhibition in a constant state of flux throughout its duration...The controlled collaboration between artist/dealer and viewer/consumer is here rendered legible as a metaphor for our engagement with those systems."

-Todd Alden, "The Tough New Spirit of Dodge""
Fair enough. Part of me likes this bitter pill, but it is
very
bitter. Considering Schumann's enterprise, I sink into despair. What is his impetus? How can he adopt such a system without profound sorrow? Or is he, in fact, submerged in melancholy as a result of these efforts? I don't believe I could live with one of these Schumann's, emblazoned with a price as they are. For me, the exhibition works as a cultural artifact - a reflection of our time - but I am as discouraged by it as I am by the contemporary free-market, imperial zeitgeist.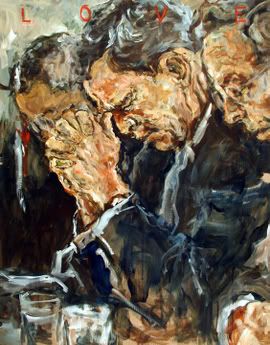 Photo credit:
images of Schumann paintings/exhibition installation from
Taxter & Spengeman website