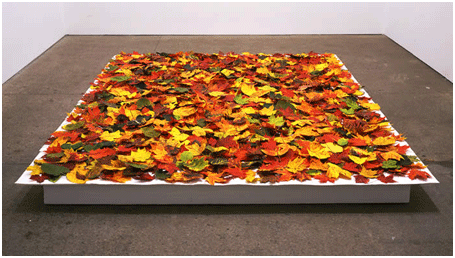 Jane Hammond
"Fallen"
2005
Dimensions variable
I have a bias against political "protest art." Excepting
Pablo Picasso
's "
Guernica
," I am hard pressed to think of moving, successful artworks in this all-too-noisy stall of the political art stable. I don't mean to suggest that artists shouldn't bang a drum on behalf of causes near and dear to them, but doing so without looking like an ass is no mean task.
Thankfully, there are a number of artists who produce work that addresses contemporary political concerns without throwing a tantrum; I didn't realize that
Jane Hammond
was one of them. I like Hammond's collages - and some of her paintings - a great deal, so I was thrilled to read about her installation/sculpture, "
Fallen
," exhibited last year at
Galerie Lelong
. Unfortunately, I missed the show. I include below critic Eleanor Heartney's description of the work, printed in the September 2005 issue of
Art in America
.
"In the show's largest work...a pile of large, brilliantly colored autumn leaves spread[s] over a low platform in the center of a separate room. Actually, these remarkably real-looking leaves are artful reproductions of ones gathered by the artist and her friends...Hammond inscribed each of the roughly 1,500 leaves with the name of an American soldier killed in Iraq. (As the war goes on, she will continue to add leaves as more soldiers die.) Thus, what first appears to be a celebration of nature's beauty becomes a reminder of the mounting toll of war."
At the time of the exhibition, "Fallen" was comprised of more than 1,500 leaves. Presumably, Hammond has dutifully continued fashioning her paper leaves, which should now number just over 2,200. The process of shaping, inscribing and adding these leaves must be a very difficult one, but I am thankful for the project and ever more impressed with Hammond as an artist.
Read the 2010 follow-up to this post
here
.
Photo credit:
image ripped from
.nsimplexity