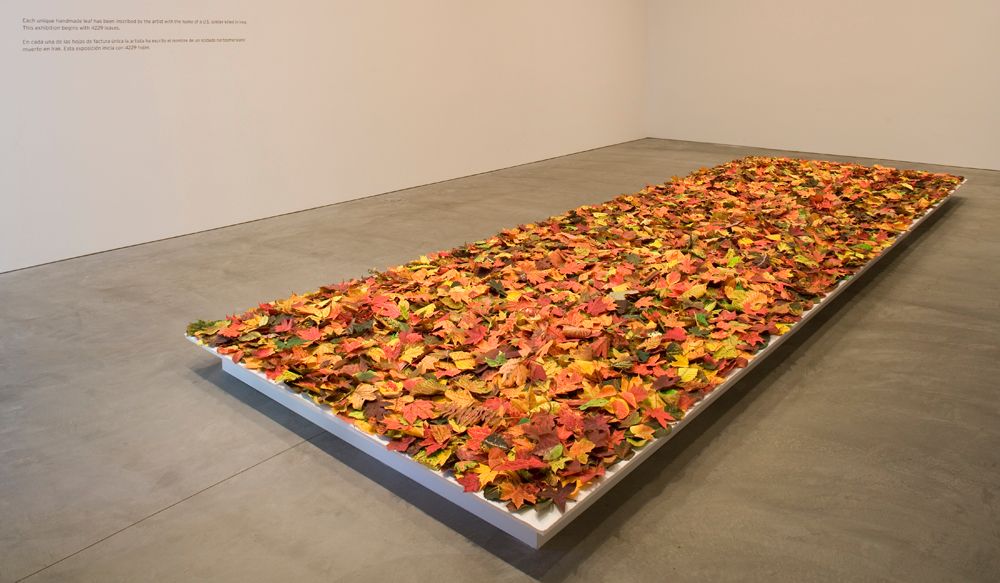 Jane Hammond
"Fallen"
2010
Dimensions variable
In January 2006, I wrote
a short post
about
Jane Hammond
's mixed-media, evolving sculpture "
Fallen
," a melancholy and beautiful tribute to the lives lost during the (now sort-of-but-not-really-over)
Iraq War
.
When it was exhibited in 2005, the work consisted of 1,500 paper leaves, each meticulously crafted by the artist and inscribed with the name of an American soldier who met his or her end during the invasion or occupation of Iraq.
At the time of my post
, I wondered if Hammond had continued to add leaves to the work.
A couple of weeks ago, four-and-a-half years after I wrote about "Fallen," the artist sent me an email telling me more about the life of the sculpture. I share the bulk of her update below, along with some images of the piece as it was in 2005 (below) and as it looks more recently (above, and detail below).
"I make the leaves by hand and each is based on a real leaf which I gather and digitally scan, then there is cutting, hand-painting, a little fiberglassing and more hand-painting, then they are signed by me with sumi ink and a brush pen and molded into a three-dimensional form.

[...A]ll the leaves in the piece you saw at Lelong were from upstate Connecticut, gathered in the Fall of 2004—I have now gathered leaves in Hawaii. Washington State, California, Colorado, Texas, Arkansas, Missouri, Michigan, Mississippi, Alabama, Virginia, Maryland, Massachussetts, Vermont, New Hampshire, Maine and Rhode Island. And adding to the original group from 2004, I have gathered in the Autumns of 2005, 2006, 2007, 2008, 2009. And I am sure I will gather some in 2010 this Fall.

[...]This Fall, ["Fallen"] will [...] be shown at the Taubman Museum in Roanoke, Virginia from September 23rd until January 10th, 2011. It will open with 4,390 leaves."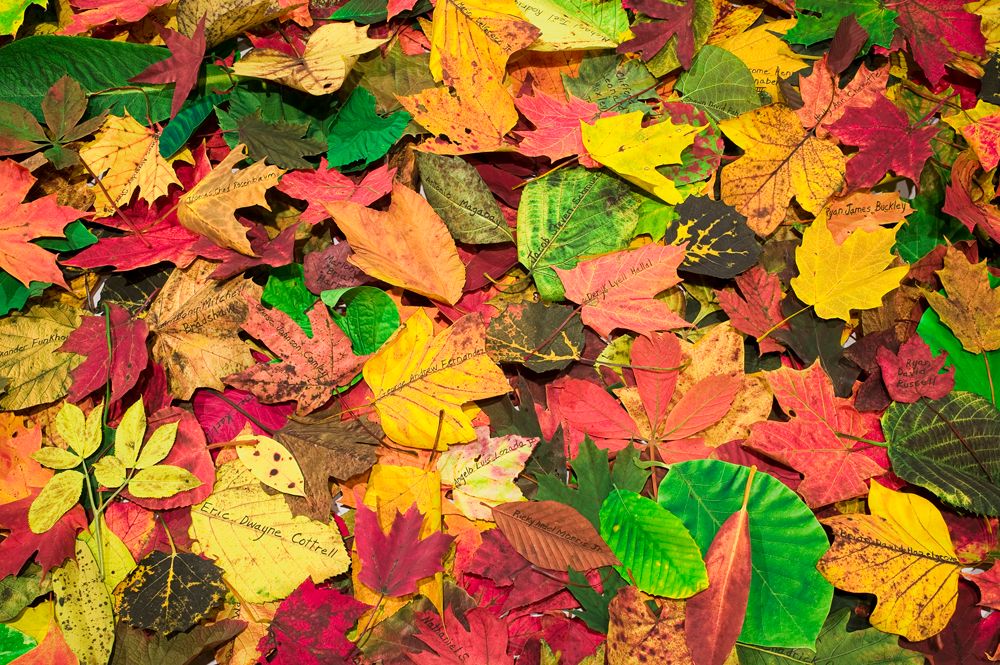 Jane Hammond
"Fallen" detail
2010
Dimensions variable
Sadly, she
does
have more leaves yet to add.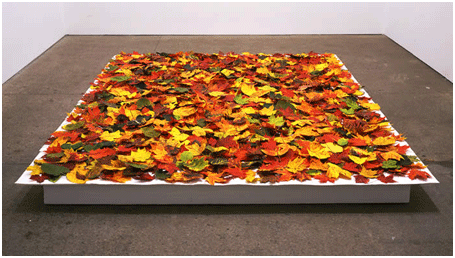 Jane Hammond
"Fallen"
2005
Dimensions variable
Image credits:
courtesy Jane Hammond