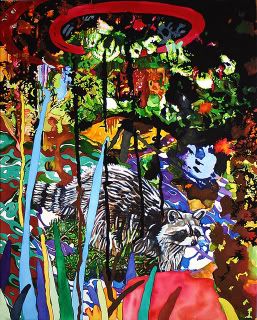 Christopher Reiger
"the banks of solitude"
2006
Watercolor, gouache, marker, and sumi ink on Arches paper
27 x 22 inches
Two of my recent paintings are included in a terrific group show that opens tonight at NURTUREart's new space in Brooklyn. Details follow.
+++++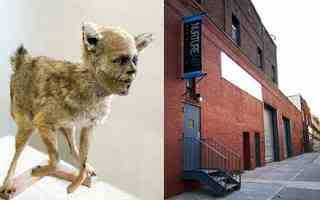 (l) Artist: Kate Clark, (r) Photo: Lily McCullough
NURTUREart Non-Profit brings its unique collaborative approach to supporting emerging artists and curators to a stunning new home in East Williamsburg's hotbed of grassroots creative activity. MAD COW, Absurdity and Anxiety in Contemporary Culture is the inaugural exhibition at NURTUREart Gallery's new space at 910 Grand Street in Williamsburg, Brooklyn. See below for directions.
Exhibition Run: December 15, 2006 – February 4, 2007
Opening Reception: Friday, December 15, 8 – 10 p.m.

Featured artists are: Kate Clark, Purdy Eaton, Valerie Lamontagne, Katherine McDowell, Justin Pollmann, Christopher Reiger, Corinna Schnitt, Deborah Simon and Jason Sleurs.
Truth being stranger than fiction, the outbreak and ensuing panic of a deadly madness epidemic spread by farm animals provides an apt theater of the absurd metaphor for our times. MAD COW, Absurdity and Anxiety in Contemporary Culture is guest-curated by Joelle Jensen, as part of the NURTUREart Emerging Curators' Program. The artists in this exhibition, working in a variety of media, juxtapose animal and human nature to address psychological and social issues. These juxtapositions reveal contemporary fears and desires through articulation of the irrational. Each artist examines both the wild and the tame aspects of human experience, confronting the viewer with the duality that may be found in each of us.
MAD COW is a NURTUREart Emerging Curators' Program collaboration. Learn more about the Emerging Curators' Program at
www.nurtureart.org
.
Save The Date:
Artists Panel Discussion on Sunday, January 28, 2007 at 4 p.m.
moderated by curator Joelle Jensen