The holiday blitz is upon us.
As I make my way home, "
Jingle Bell Rock
" is broadcast from elevated lamp post speakers on
Queens
'
Steinway Street
, and crowds of consumers bump along the sidewalk, somnolent. I notice a group of about ten African-American teenagers approaching noisily and all clad in red. They repeat a high-pitched taunt of, "Crip....criiiiiiiiiip." Are they
Bloods
?, I wonder. I don't see any blue outfits in the immediate area, but the youths suddenly break into a run, pushing me aside to assault a small group of
Crips
not far behind me. One Crip, a blue sash hanging from his belt, is lifted above another boy's shoulders and slammed onto the sidewalk. He's then kicked and punched in the head repeatedly. I stand ten yards away and watch, hating myself for doing so. Several teenage girls run away, giggling, apparently enjoying the violent outburst. The fight spills into the street, stopping traffic as fists and obscenities fly. I notice that most of the fighters are smiling, and I recall that it's a release to beat someone. I felt the same thing when I was their age, although I usually cried when I fought, even when I was the victor. Before long, I tire of the fight and move on, melancholy. "Jingle Bell Rock" has ended. Now it's "
Rudolph
."
A block later a bumping car rolls by, marrying "
White Christmas
" to "
SexyBack
." Here's to the holiday season, friends! Ho-Ho-Hooah.
+ + + + +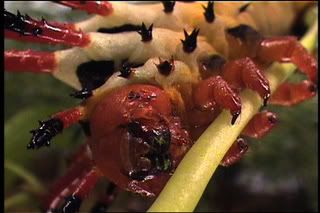 Catherine Chalmers
"Safari" (video still)
2006
7 min., 4 sec. video
International Center of Photography
: I had not visited the ICP museum before. The space is handsome and welcoming, allowing for pleasant art viewing. Despite my indifference to much of the work included in "
Ecotopia
,", two artists do stand out.
Allessandra Sanguinetti
- whose solo show at
Yossi Milo Gallery
I
wrote about in October
- includes six photographs in "Ecotopia," two of which I had not previously seen. Sanguinetti's imagery is evocative and her visual acuity impressive. Her colorful and visceral pictures eclipse the bleak landscapes that comprise the bulk of the exhibition. I respect (and appreciate), for example,
Wang Qingsong
's dramatic images of accelerating social and environmental change in China and
Robert Adams
' black-and-white photographs of felled tree piles, but Sanguinetti's prints give me pause. They are profound.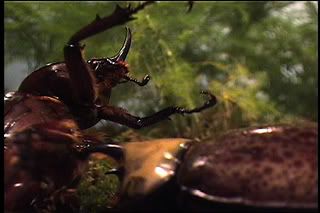 Catherine Chalmers
"Safari" (video still)
2006
7 min., 4 sec. video
My esteem for Sanguinetti's photography aside,
Catherine Chalmers
' video, "Safari," steals the show. (View a brief sample
here
.) I first saw her work in
Harper's Magazine
several years ago. The included photographs were part of her series, "
Food Chain
," featuring a tomato, caterpillars, a
praying mantis
, and a frog. The caterpillars feed on the tomato, the praying mantis on the caterpillars, and, finally, the frog on the mantis. Many artists I know dismissed "Food Chain" as uninspired. They felt that it belonged in the pages of a natural history magazine, but didn't deserve to be featured in
Harper's
, much less an established NYC gallery. More curiously, some people found the work manipulative, even sadistic; Chalmers introduced the caterpillars to the mantis, and the mantis to the frog, knowing full well what the end result would be. Whatever the criticisms, I was intrigued by the series and I've since appreciated Chalmers' work featuring genetically engineered mice and her favorite subject, the
American cockroach
(
Periplaneta americana
).
"Safari," however, represents a major leap forward for the artist. Her cast of characters has expanded and the memorable moments are many. The documented scenarios and images, like those of Chalmers' still photography, are orchestrated - even the set of "Safari" is crafted and controlled by the artist - but they are no less stunning and exciting for it. A pile of red efts - the neonate stage of the
red-spotted newt
(
Notophthalmus viridescens viridescens
) - rests atop bright green moss; a pair of
rhinoceros beetles
engage in gladiatorial combat; a praying mantis eats away the eyes of a still-living
housefly
(
Musca domestica
).
(1)
The film's color is saturated - startling reds, blues and greens abound - and the detail is breath-taking. Chalmers makes excellent directorial choices, too; during the beetle battle, the camera pulls in and moves low, giving viewers a sense of the creatures' power.
Upon entering the exhibition, I watched "Safari" twice through. Later, on my way out of the museum, I stopped for a third viewing. It's that good.
+ + + + +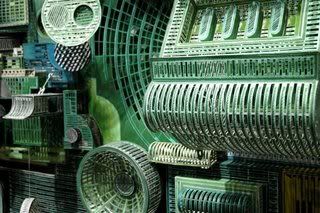 Jane South
"Untitled (Tracing Parameters)"
2006
Hand-cut and folded paper, ink acrylic, graphite and balsa wood
108 x 144 x 20 inches
(detail photo by James Wagner)
Whitney Museum at Altria
: The Whitney at Altria is another arty spot I hadn't visited before. It's certainly not as warm and welcoming as the ICP museum, but I like seeing art exhibited in public places (especially when it's not run-of-the-mill public art fare:
here
or
here
, for example). The gallery section of the Altria location is typical - quiet, white cube - but three of the artists participating in "
Burgeoning Geometries: Constructed Abstractions
" installed work in the lobby of the building, just outside the gallery entrance. I visited the show around 1 PM; nearly twenty people sat in and around the works, eating, chatting, playing chess, or pecking at laptops.
I was most interested in works by
Jane South
,
Tara Donovan
, and
Phoebe Washburn
. South uses meticulously crafted paper and
balsa
to construct visually articulate
Frank Stella sculptures
. Where Stella's wall works and assemblages assault the eyes and good taste - I'm a fan of brightly colored work, but c'mon, man, don't just throw a bunch of material together - South rewards the patient viewer with subtle, uncommon composition and tried-and-true color combinations. I admire work that makes me step forward and back, diving in for an examination of craft and technique, then pulling out to admire the "big picture." "(Tracing Parameters)" had me dancing.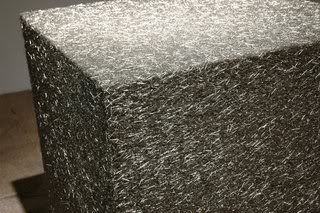 Tara Donovan
"Untitled (Pins)"
2004
Size #17 straight pins
40 x 40 x 40 inches
(photo by James Wagner)
Tara Donovan's "(Pins)" is more powerful than her much celebrated "
(Plastic Cups)
," shown earlier this year at
Pace Wildenstein
. Where that sprawling sculpture was merely clever (and coyly appealing), "(Pins)" attains the realm of mystical physics. The sculpture grants viewers a sense of universal weight; the actions of the ether are glimpsed. In fact, Donovan's pins more effectively limn the intangible and the ethereal than do
Rachel Whiteread
's resin sculptures
(2)
. Furthermore, whereas Whiteread's work merely delineates matter from the flip-side, Donovan also draws our attention to the forces acting in the ether: electricity and magnetism, in particular. I wonder, though, if "(Pins)" would resonate as powerfully in a collector's home as it does in the sterile gallery, a context that lends itself to contemplation of the unseen.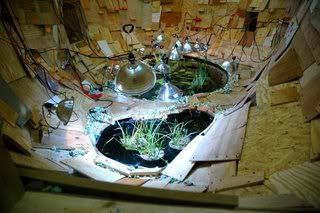 Phoebe Washburn
"Minor In-House Brain Storm"
2006
Mixed media
Dimensions variable
(interior detail photo by James Wagner)
Phoebe Washburn's "Minor In-House Brain Storm" is the most exciting of her sculptural installations to date, even if it is not her strongest. Color and formal whimsy are central to most of Washburn's creations, but "Brain Storm" pays less attention to those ingredients. Where past installations, such as 2004's "
Nothing's Cutie
," have included elements of the unexpected (although one vantage point suggests
one structure
, a few more steps reveal
something altogether different
) and curious relationship play between top and bottom, "Minor In-House Brain Storm" is the first of Washburn's works to distinguish between an interior and exterior. Viewers are unable to see the inside of the work unless they peer through one of several portals. The interior of the scrapwood bowl houses a string of heat lamps and two dark pools, both of which support aquatic vegetation and snails (of indeterminate species).
Washburn's inclusion of plant and animal life marks an interesting turn in her development. I've admired her work for years, but this installation provided me with the first "Eureka!" reaction. Washburn's aesthetic and process lend themselves to collaboration with Nature and time. I hope that "Minor In-House Brain Storm" is a taste of what's to come.
Note:
Read
James Wagner
's
post
on "Burgeoning Geometries: Constructed Abstractions"
here
.
+ + + + +

Beth Cavener Stichter
"please."
2006
Stoneware, cat whiskers
11 x 10 x 5 inches
Garth Clark Gallery
: I've visited
Beth Cavener Stichter
's website many times. Until this month, however, I'd had no opportunity to see her ceramic sculptures in person. The work included in "
A Modest Proposal
," Stichter's first solo effort here in New York, meets my expectations.
There isn't anything extraordinary or even distinguished about Stichter's subject matter; she presents us with animals cowering, lounging, squirming, fucking, scowling. Like so many young artists, myself included, Stichter freights her animal subjects with human emotion. A few years ago, her sculptures depicted zoomorphized humans, bird-headed warriors and boar women. A fan of most things fantastic and mythic, I appreciate that work, but Stichter's current sculpture is more sophisticated, both technically and conceptually, providing viewers with a more complex, nuanced read. More importantly, the work excels at evoking empathy.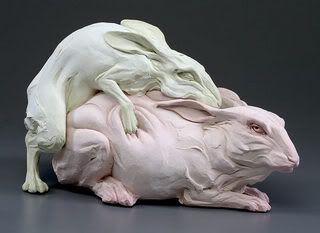 Beth Cavener Stichter
"A Necessary Delusion"
2006
Stoneware
7 x 12 x 7 inches
In "A Necessary Delusion," a rather tired looking male rabbit mounts a healthy female. Desperation is worn on his face and suggested in his unforgiving grip; she seems annoyed or resigned, maybe even disinterested. That's one read, at least. The male might also be in the throes of orgasm, his claws pulling at the flesh of his mate, his back sharply arched in those final, involuntary thrusts. He's doing what he must, as is she. What some call desperation others attribute to the vice grip of the biological imperative, nothing more.
But what of "Remember Me," a work featuring a young rabbit hung uncomfortably on a brass hook, perhaps forgotten, or awaiting slaughter? Hanging on the hook, the animal is abstracted from its nature, vulnerable; the form screams for protection. Contemplating it, I feel contrite, as though I am responsible for the plight of this pathetic creature.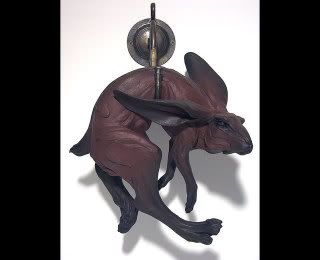 Beth Cavener Stichter
"Remember Me"
2006
Stoneware, antique brass hook
11 x 10 x 5 inches
Stichter's sculptures are strong because she is confident enough to tiptoe in cliche. As
Wallace Stegner
writes in his novel, "
All The Little Live Things
," "it's only the literary, hot for novelty, who fear cliche, and I am no longer of that tribe," his point being that, unfashionable though they may be, cliches are usually more evocative than so much "original" content. Stichter's menagerie is familiar because it is family. We know these animals (and their foibles) because we know ourselves. Until we stop scratching the itch, then, the honest animals (rare among the self-styled avant garde) will continue to respond to work of this ilk. I look forward to following Stichter's work.
(1)
Excepting the newt/eft, I'm uncertain of the particular species featured by Chalmers. If you can identify any or all, please let me know.
(2)
With the exception of Whiteread's stunning public work, "
Water Tower
," one of the most beautiful and optimistic public works I've seen.
Photo credits:
"Safari" stills from ICP website; all "Burgeoning Geometries" images courtesy
James Wagner
; Stichter images ripped from the artist's website (hopefully with her blessing)