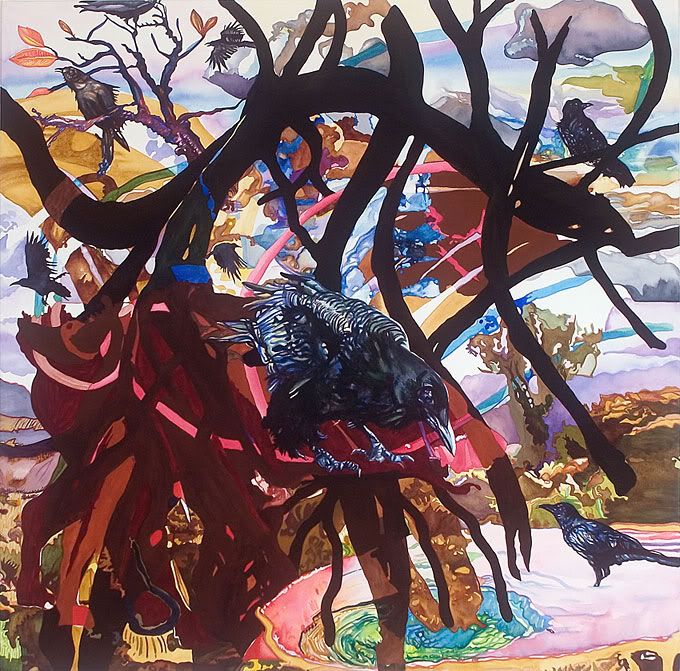 Christopher Reiger
"a retching"
2006
Watercolor, gouache, marker, and sumi ink on Arches paper
42 x 42 inches
All's quiet on the
HH
front this week. I'm preparing a presentation for the
NURTUREart
panel this Sunday, January 28th (details and link below).
A relatively hermitic person, I'm comfortable writing and painting, activities that require plentiful solitude, but I'm a fish out of water when front-and-center in a public setting. The pre-talk jitters have adversely affected my preparation and, uncertainty prevailing, I keep reworking my talk. Initially it was to be a comparison of the contemporary socio-political climate to that of
Bosch
's day - the decades preceding
Luther
's
Protestant Reformation
in Europe. Even though I still believe that subject would make for a very interesting discussion, I soon realized that it would take much longer than the allotted 20 minutes. So now I'm just going to talk about some of my work, and it's relevance to the "
Mad Cow
" theme.
Anyway, if you're looking for something to do on Sunday, come to NURTUREart and heckle me.
Kate Clark
,
Purdy Eaton
, and I will be delivering 20 minute talks focusing on our work, ideas and processes. Afterwards all of the New York based artists included in "Mad Cow" will join in the fray.
NURTUREart Non-Profit brings its unique collaborative approach to supporting emerging artists and curators to a stunning new home in East Williamsburg's hotbed of grassroots creative activity. "MAD COW, Absurdity and Anxiety in Contemporary Culture" is the inaugural exhibition at NURTUREart Gallery's new space at
910 Grand Street
in Williamsburg, Brooklyn. See
this earlier post
for map and more detail.
Artists Panel Discussion
Sunday, January 28, 2007 at 4 p.m.
Moderated by curator Joelle Jensen