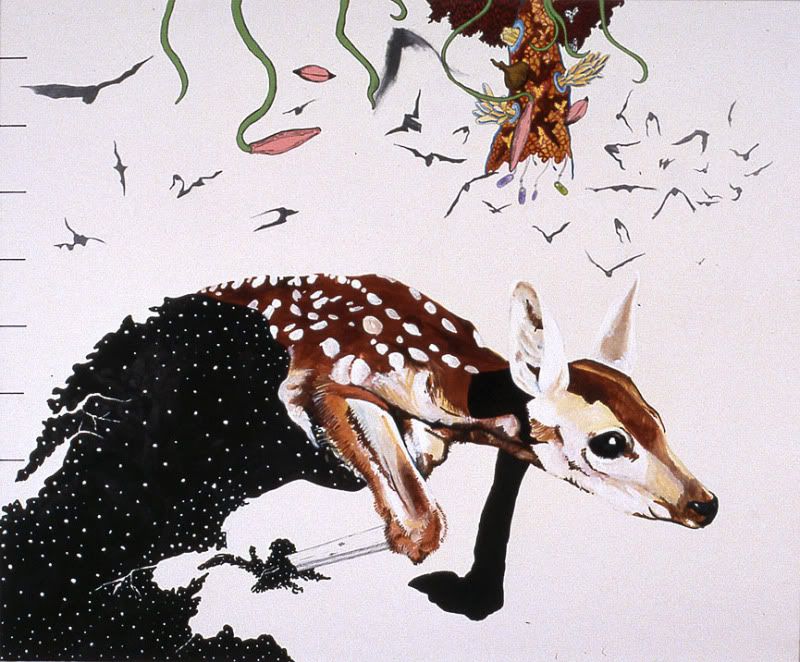 Christopher Reiger
"some shambles of apology"
2002
Pencil, watercolor, gouache, acrylic, sumi ink and marker on stretched Arches paper
25 1/4 x 30 inches
"We opt for what we want as daily conversation in the privacy of our minds, and whether on most days we get to watch the sunrise and listen to a snatch of the genius of Bach. It's not expensive to pay attention to the phases of the moon, to transport lemon lilies, and watch a garter snake birthing thirty babies and a catbird grabbing some, or listen to the itchy-britches of the Canada geese as autumn waxes. We will be motes in the ocean again soon, leached out of the soil of some graveyard, and everlastingly rocking."

-Edward Hoagland, "Compass Points"
Tomorrow night the New York art world will kick start another season. I've been trying to get charged up about the September frenzy, but when I visit
Artcal
's
"Openings : Next 7 Days" listing
, I'm daunted by the number of shows. This, despite the fact that I look forward to seeing a great many of them.
After eight years in New York, my stomach still tightens when I anticipate attending openings. Whether taking the polite chit-chat route or opting for an intoxicated art party approach, I'm out of my element. People tell me that I handle myself well enough; I suppose I do - I'm not a misanthrope - but the anxiety and the resulting physical discomfort rarely seem worth it. I prefer to be alone when I'm looking at art.
So, this year, as usual, I plan to attend only my friends' openings. All well and good, except that the reclusive temperament isn't well suited to an art career. Curiously, I'm less worried about this fact than I once was. Work is going well in the studio and, most importantly, I'm happy. As
William Gaddis
wrote in "The Recognitions,"
"What's any artist, but the dregs of his work? The human shambles that follows it around. What's left of the man when the work's done but a shambles of apology."
This being the case,
listening to those Canadas
is all that much more important.