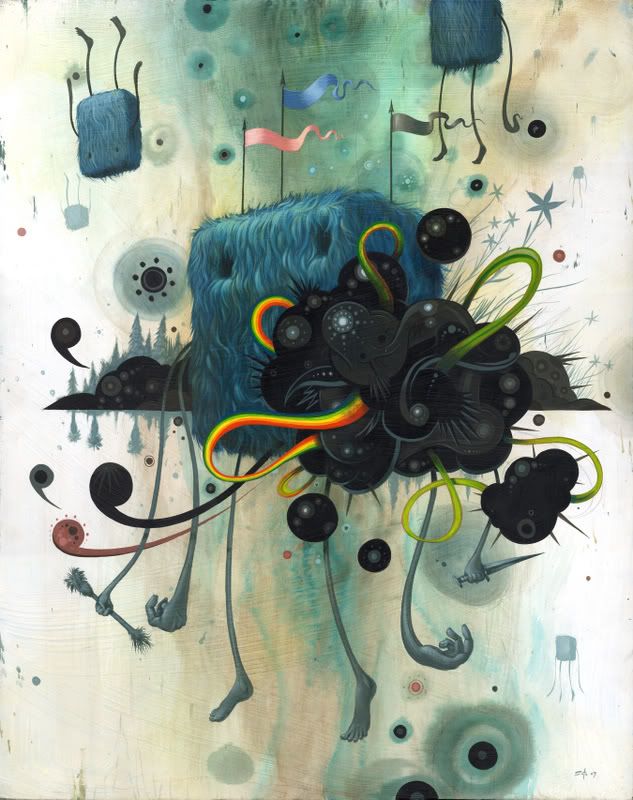 Jeff Soto
"Hope Emerges From Behind A Storm Cloud"
2007
Acrylic on wood
24 x 30 inches

Jonathan Levine Gallery
: The press release for
Jeff Soto
's solo exhibit, "
Storm Clouds
," speaks to popular misgivings about the state of things. "Soto explores his predominant fears and anxieties over his daughter's future, the civil war in
Iraq
, and the United States policies on environmental conservation." All well and good, yet I find myself asking if the artist's work communicates these ideas or if the release is merely an effort to lend Soto's cartoonish work gravitas?
Contemplating his paintings, environmental excesses, impending collapse, and enduring wars do not come to mind. Instead I'm more often moved to an exuberant giddiness. I smile wide and often. I feel good about Soto's healthy imagination and his sharing it with us. What I
don't
feel, however, is anxious; I do not brood. Even when Soto includes imagery of "death and decay" - oil clouds, fighter planes, pirate riggers, bombs - his stylized rendering and punch-out palette leave me feeling enlivened and upbeat.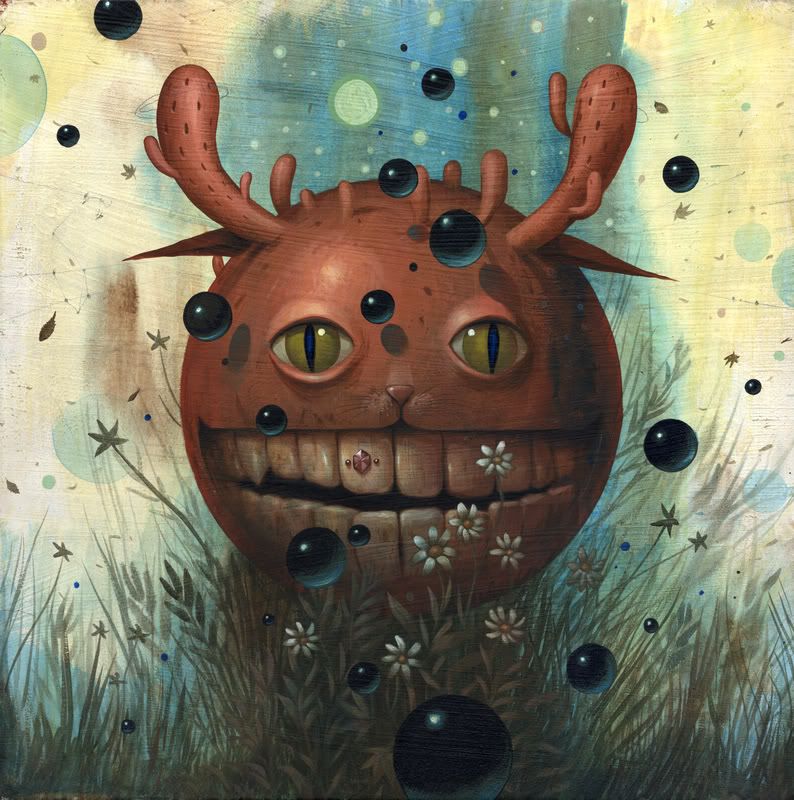 Jeff Soto
"Earth"
2007
Acrylic on wood
18 x 18 inches
Does this mean the work fails in its intention? I don't believe so. Quoted in the press release, Soto says, "I think we can make things better somehow." Soto's essential optimism is borne out in his work. If fear and anxiety motivate him in the studio, his process is alchemical; the paintings are full of frenzied joy and hope, both of which are much needed psychological commodities in our time.
Jeff Soto's exhibit, "Storm Clouds," is on view through October 6th, 2007. For more information, contact
Jonathan Levine Gallery
.
Photo credit:
images courtesy Jonathan Levine Gallery
Editor's note:
This write-up was originally slated to be published in a more high-profile publication, but was refused because of the Jonathan Levine Gallery's "no photo" policy. As an artist and art writer (and blogger and frequent picture taker), I sympathize with the position of the publication, and encourage all gallery directors to examine the "no photo" policy.