Banksy at Vanina Holasek

Banksy
"Because I'm Worthless"
Limited edition print

Vanina Holasek
: If you don't know who
Banksy
is, you're out of touch with contemporary art
and
popular culture. The British graffiti artist and provocateur straddles the divide between high and low art and, not surprisingly, his doing so is not to everybody's liking. In the July 5, 2007 edition of
The Guardian
, critic
Jonathan Jones
asks if Banksy is "really much more than a prankster with a spray can?" 1,000 words later, Jones
concludes
that Banksy "is a background artist," making "art for people who think that artists are charlatans." I disagree...to an extent. I like a lot of Banksy's graffiti and sculpture projects and I genuinely admire the anti-commodification philosophy of "
street art
." But street art is a movement and aesthetic that, as the name suggests, relies heavily on context.
Banksy's public interventions are often clever and poignant, but pithy sayings that work well on alley walls can seem inappropriate and shallow in the gallery. A street artist's reputation, like his or her work, is a product for and of the public. As such, is it possible to pass over into the private realm? If Banksy plans to continue displaying work in the world of financiers and socialites, he must address that question responsibly. After all, the best works produced by
Jean-Michel Basquiat
and
Keith Haring
, the Art World's hallowed representatives of graffiti culture, are seen in photographs of New York City streets, not in auction house catalogs or museums. Collectors, academics and appraisers will balk, but the Basquiat/Haring gambit is plain enough; all of those over-priced paintings are but trumped-up vestiges of the few early works that mattered.
Indeed, the limited edition Banksy prints hanging in Vanina Holasek gallery are more disappointing than I expected (or feared). Hung chaotically - crooked and, in some cases, only partially unwrapped - the prints are tokens of Banksy's work but not, as I see it, the art itself.
What does this tell us about the artist? Perhaps not much; this exhibition is not officially sanctioned. For his 2006 "
Barely Legal
" installation in Los Angeles, Banksy sought the cooperation of business partners and their associates to assemble an exhibit suitable for the work and the audience. Now the darling of Hollywood celebrities and thousands of young, monied collectors, the artist has the wealth and the influence to take control of the entire enterprise so that his original, guerilla intentions remain true.
But context didn't much bother the group of British girls that shared Vanina Holasek gallery with me last week. They tromped up and down the gallery's three flights, dutifully documenting the exhibition in photographs. Indeed, the anonymous satirist from Bristol that so often pillories celebrity and consumerism is a hot commodity himself. It's time for him to accept as much...and then turn his populist canons on those that would feed him.
+ + + + +
"Out of the Box" at Elga Wimmer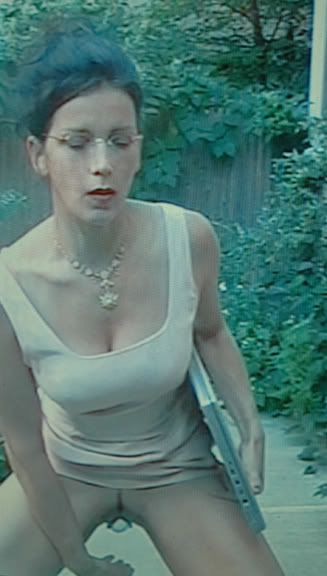 Heide Hatry
"Expectations" (still)
2007
DVD, 2 min., 47 sec.
Elga Wimmer
: A karma police fearing liberal, I entered Elga Wimmer gallery apprehensive. How would I respond to "
Out of the Box
," an all female group show concerned with gender and corporeality? Because I'm usually bored by thematically curated exhibitions - they make neat that which should remain untidy - and I'm sometimes guilty of playing the reactionary SWM, I worried that my response would be "inappropriate."
Video and nudity predominate in "Out of the Box," and both
Heide Hatry
's "Expectations" and
Regina Jose Galindo
's "Piel," the two strongest works, involve young, attractive women exposing themselves on film.
The video component of Hatry's "Expectations" installation is straightforward enough. Dressed provocatively, Hatry approaches the camera, pauses in center frame, feels the pangs of another presence, hikes her skirt and "births" a chicken egg. She then throws the egg at the camera lens. Through a film of embryonic mess, we watch as the artist adjusts her skirt and walks away, unfazed.
A heterosexual male with healthy, if sometimes deviant sexual appetites, I am vaguely aroused by Hatry's video. I assume she intended as much. Her outfit, complete with laptop on hip and secretarial glasses, is pulled from the fantasy rack of point-and-click porn cliche. Furthermore, the egg production is as much a reference to the pornographic objectification of women as it is to the menstrual cycle, birth or Hatry's artistic forebears (one of whom,
Carolee Schneemann
, is included in the exhibition). The oft discussed "male gaze" is encouraged - of all viewers, whatever their gender or sexuality - then shamed. We're left with egg on our face. I watched "Expectations" sheepishly. I felt as though Hatry had indirectly cast me in the role of dumb, male ape and I resented her for it.
Six years ago, I lived in a predominantly African-American and Hispanic neighborhood. One Sunday morning, as I carried my laundry down the block, a group of local teenagers approached, directing unpleasant epithets my way. The teen closest to me spat at my feet, stared me down and snarled, "Get outta our hood, mericon." I became enraged. I wanted to make it clear to the teenagers that
I
was not who they thought. But my reaction was irrational; by virtue of my skin color and my rent, I was
exactly who they thought
. I deserved their scorn, yet I remained frustrated and angry. Watching 'Expectations," I was similarly vexed and defensive. Why does Hatry feel it necessary to turn me into a sexist, possessive thug? Anyway, that's not me; what should I have to be embarrassed about? It isn't
me
that she intends to egg.
Yeah, right.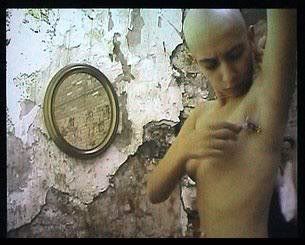 Regina Jose Galindo
"Piel" (still)
2005
DVD, 47 minutes
Galindo's more hopeful "Piel" absolved me of some male guilt. The artist is filmed as she publicly removes her clothing, methodically shaves off all of her hair (scalp, eyebrows, body), and then walks confidently down a busy Venetian side street and onto a canal bridge. Making the private public is by no means new, but it remains as liberating and exalting today as it was centuries ago. The artist's performance is a ritualistic reclamation of her body. But Galindo's shaving complicates matters. Her comfortable public nudity is progressive, but the shaving is dual; it speaks both to new beginnings and to regression, whether forced, as by a government or society, or resorted to under duress.

James Wagner
, writing about the exhibition,
wonders
if heterosexual and bisexual men "get a head start in understanding gender." I can't confirm this notion. Personally, I left "Out of the Box" flummoxed. I very much liked the works by Hatry and Galindo, but my response to Hatry's keen, even aggressive criticism and Galindo's vaguely masochistic absolution is lugubrious.
Does this reaction suggest that even (self-proclaimed) progressive males are inherently sexist? Probably. As long as there are penises and vaginas, there will be finger pointing. Humans continue to prove that we are foolish animals; misunderstanding and biases are the result of any perceived difference. The important thing for us all to remember, regardless of race, sexual preference or religion (though this last one is more tricky), is to be happy in our flesh and to accept that the distinctions are trivial and the similarities profound. If we can accept that truism, trite though it is, it logically follows that candid reactions are more valuable than appropriate ones.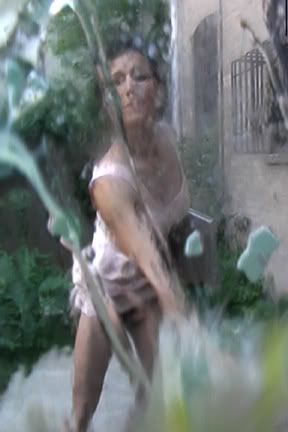 Heide Hatry
"Expectations" (still)
2007
DVD, 2 min., 47 sec.
+ + + + +
Adam Parker Smith at Priska Juschka

Adam Parker Smith
"Bold As Love" (installation view)
2007
Felt, wood, pins
Dimensions variable
Priska Juschka
: The gallery press release describes "
Bold as Love
,"
Adam Parker Smith
's collection of piked cartoon heads at Priska Juschka Fine Art, as "an illustrative tableau [exploring] consumerist addiction to violence." Packaged thus, the installation risks being a one-liner, but the project's exuberance and sincerity are beguiling. Smith's principal materials are felt and wood, a
handicraft
combination that counters the gory imagery (apparently inspired by
Hemingway
's "
For Whom The Bell Tolls
"); the effect is both comic and tragic.
The first of my two visits to "Bold as Love" was the afternoon before the opening. Packing material was strewn near the gallery door and a young man worked alone in the space, making final adjustments to the installation. I tentatively inspected several of the skewered heads, then asked the man if he was responsible for them. "Yes," he replied, enthusiastically. "The opening is tonight. You should come by." His manner and carriage struck me; I immediately liked him. Working in the Art World, I'm wary of mistaking charisma for quality, but Smith seemed genuine.
With that encounter in mind, the second, longer visit to the installation left me convinced that Smith's gesture, a product of the MTV generation, is intended to rouse us hipster shits from our reverie. "Bold as Love" reminds us that violence is not a cartoon and that love is not the stuff of pop songs.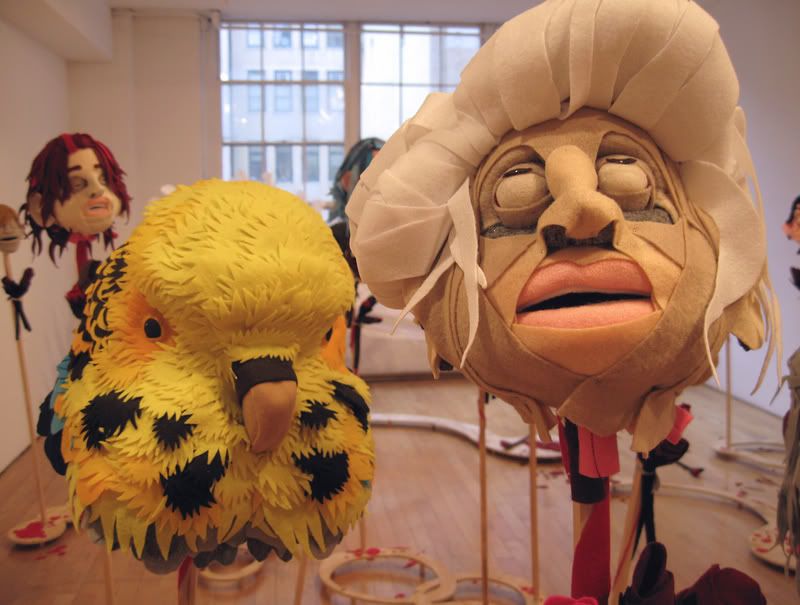 Adam Parker Smith
"Bold As Love" (installation view detail)
2007
Felt, wood, pins
Dimensions variable
+ + + + +
Will Yackulic at Jeff Bailey

Will Yackulic
"Invocation 2nd"
2007
Gouache, watercolor, India ink and typewriter on paper
16 x 14 3/8 inches
Jeff Bailey
: Through my early twenties, I equated the words "hermetic" and "hermitic." In fact, "hermetic" is a more technical term, meaning airtight or vacuum sealed, whereas "hermitic" describes a reclusive person. The two words are etymologically related, however, and both are applicable to
Will Yackulic's works on paper
, currently on view at Jeff Bailey gallery.
Admiring these images,
depictions
of
St. Jerome
, the patron saint of translators, librarians and encyclopedists, come to mind. (What a pertinent saint for the contemporary artist, too! So many of us are archivists, collagists and interpretors.) Yackulic's pictures would hang well above a writing desk or adorning the walls of an
appreciated library
or study.
Essentially abstract, the precise meaning of Yackulic's pictures is inaccessible, but the geodesic spheres, poetic fragments and typewriter key strikes evoke a furiously romantic temperament, hopeful, obsessive and likely withdrawn. Imponderable and poetic, the images might pass for artifacts of a forgotten alchemical metaphysics.
+ + + + +
"Observing the Edge" at Kentler International Drawing Space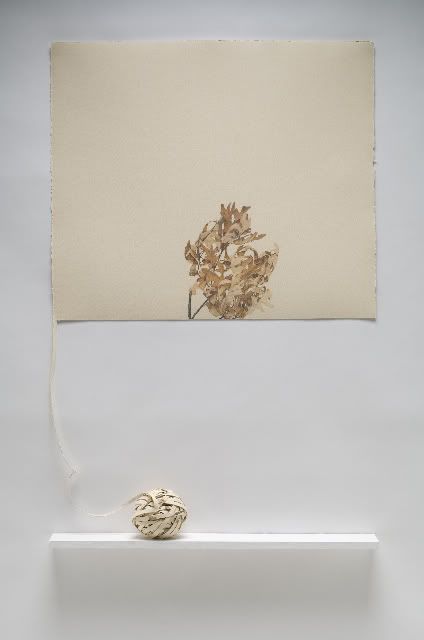 Beverly Ress
"Wound Leaves"
2007
Pencil on paper, mounted on gessoed canvas, cut and wound, painted wood shelf
33 x 22 x 5 inches
Kentler International Drawing Space
: The Kentler International Drawing Space, an ample, welcoming gallery located in Red Hook, was heretofore unknown to me. When I received an invitation to the opening of "
Observing the Edge
," a group show curated by Jennifer McGregor, I decided I should take the bus ride to south Brooklyn.
McGregor also serves as senior curator for
Wave Hill
, the Bronx public garden and cultural center dedicated to "[exploring] human connections to the natural world," and her artist selections lend Wave Hill's sensibility to the K.I.D.S.. "The exhibit [focuses] on artists who examine natural growth in the edges and interstices of the urban landscape through drawings and watercolors." Although I appreciate all of the work included, three artists -
Kevin Duggan
,
Beverly Ress
, and
Amy Talluto
- and one collaborating pair -
Bob Braine
and Leslie Reed - are of particular interest.

Amy Talluto
"Cadman Plaza Tree Portrait I"
2006
Pencil on paper
18 x 14 inches
Braine and Reed catalog the 59 species of urban flora they collect in an empty Bronx lot and assemble the account in "
Bronx Lot Florilegium
." While their project begins as a standard biological sample, the presentation harks back to an era in which natural history illustration awakened wonder in the minds of the masses. Amy Talluto's drawings and paintings usually depict rustic, woodland settings, but the two drawings included in "Observing the Edge" are exactly that, observations of the edge of
Brooklyn's Cadman Plaza
. Her remarkable mechanical pencil technique animates these pictures; the bark is rich and flesh-like, the branches dance and twist like neurons.
"Wound Leaves," one of two works by Beverly Ress, is termed a "sculptural drawing." A masterly colored pencil drawing of dying leaves on a branch is mounted on gessoed canvas, then partially cut and wound into a yarn-like ball that rests on a shelf below. The press release alludes to Ress' interest in "[conveying] the disjointed connection that we have to the natural world." The work hangs as a forgotten standard but the wound material, still connected to the drawing, reminds us that the union is permanent.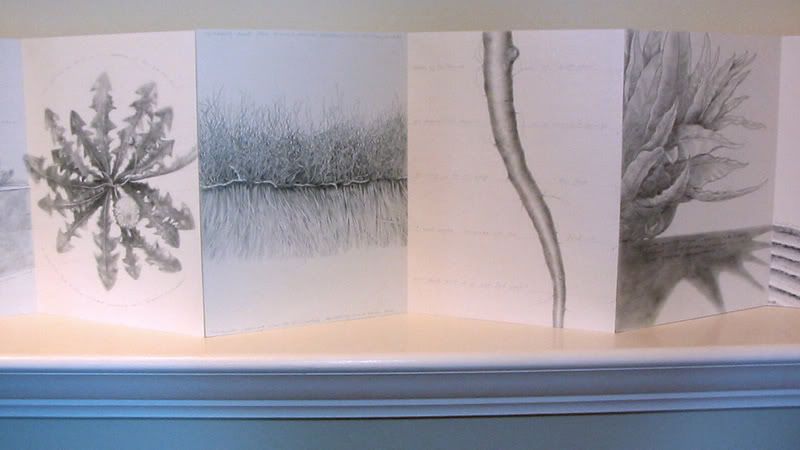 Kevin Duggan
"Turf I: Disturbed Land, 2006"
Graphite on paper
12 x 72 x 4 inches
For his "Turf" series, Kevin Duggan considers the "feral botany" of
Albrecht Durer
's well known watercolor and gouache work, "
The Large Turf
." Each of the nine plant species depicted by Durer is presented by Duggan in a suite of "accordion books." The species central to "Turf I: Disturbed Land," the strongest of the suite, is the common
dandelion
(
Taraxacum officinale
). This weedy European and Asian native was brought to the New World by European settlers and, like the human colonizers, the dandelion spread vigorously westward. Some Native Americans even referred to the plant as "white man's footprint." Duggan's striking "books" pair anecdotal and informational text with his accomplished drawing and watercolor technique.
Such handsome marriages of art and natural history are rare in contemporary art galleries...and welcome. Let's hope that Wave Hill continues to be so generous with its sensibility.
+++++
Photo credits:
Image of
Banksy
print ripped from resale site;
Heide Hatry
stills, courtesy the artist;
Regina Jose Galindo
still ripped from
Elga Wimmer website
; Photographs of
Adam Parker Smith
's "Bold as Love," Hungry Hyaena; Will Yackulic image, courtesy
Jeff Bailey Gallery
;
Beverly Ress
,
Amy Talluto
and
Kevin Duggan
images, courtesy the artists