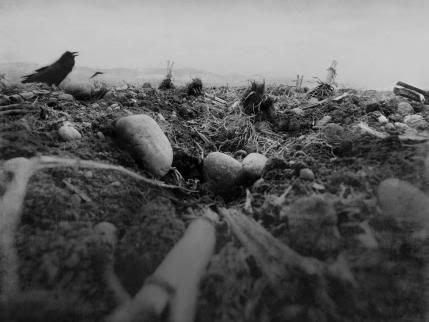 Raymond Meeks
"January 9, 2008 2:14 p.m."
Gelatin-silver print
I edit compulsively, reflexively.
Reading a recent issue of
The New Yorker
, I came upon a poem by
W.S. Merwin
, entitled "Near Field." In it, I found much that I liked...and much I felt unnecessary, even distracting.
Last night, as I prepared to toss the issue into my recycling bin, I revisited my edit. Ridiculous though it may be to flense the words of another, I do find my version more dream-like and ambiguous, and therefore more haunting.
Every writer or poet needs an editor; keep the red pen handy.
"Near Field"

This is not something new or kept secret
the tilled ground unsown in late spring
the dead are not separate from the living
each has one foot in the unknown
and cannot speak for the other
the field tells none of its turned story
it lies under its low cloud like a waiting river
the dead made this out of their hunger
out of what they had been told
out of the pains and shadows
and bowels of animals
out of turning and
coming back singing
about another time

-W.S. Merwin (edited by Christopher Reiger)
Photo credit:
Raymond Meeks
photograph ripped from
Candace Dwan Gallery site