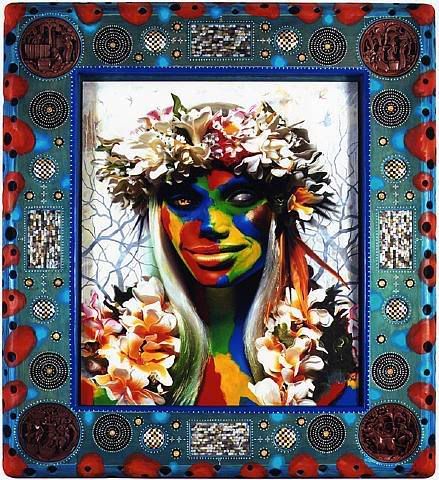 Ashley Bickerton
"Hula Girl: One Eye"
2007
Oil and digital print on canvas in carved wood, coconut, mother of pearl and coin inlaid artist frame
80 x 72 x 2 inches
Writers of gallery press releases are in the business of pitching product. Scratch the veneer of profundity, and you'll reveal an investment prospectus. That's no secret, and there's no shame in the game. But, more often than not, a press release is padded with pretentious nonsense. Does so much patronizing bullshit actually help sell the artwork? It seems to me that, because a cigar is, as
Freud
infamously (and supposedly) put it, just a cigar, some exhibitions would be well-served by good-humored candor. (*)
Lehmann Maupin
's release for
Ashley Bickerton
's show of recent, large-scale paintings describes the artist's work as a critical examination of "the art object as commodity." Further, it insists that Bickerton's pictures present a "dystopic, end-times vision." In fact, the works are less critique than wry celebration of art as commodity and, if Bickerton paints the end-times, the hedonist in each of us has a lot to look forward to.
His paintings, a sometimes awkward marriage of acrylic or oil paint to digital print, are boldly colored and unabashedly kitschy. In them, scantily clad or naked (except for lei garlands) women strike seductive poses and cavort with a big-toothed blue man, the artist's surrogate, at tropical bars and on beaches. Each work is set into a unique, inlaid and painted wood frame. The effect is theatrical, and, in its way, very successful.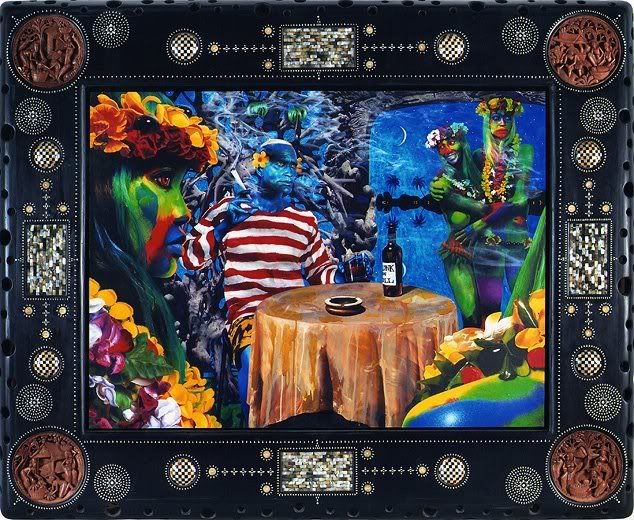 Ashley Bickerton
"Blue Bar"
2007
Acrylic and digital print on canvas in carved wood, coconut, mother of pearl and coin inlaid artist frame
72 x 86 x 2 inches
The work's equatorial revelry and acidic color elicit obvious comparisons to the paintings of
Paul Gauguin
. Both artists elected to flee the art world mainstream: Gauguin from Paris to Tahiti in 1891; Bickerton from New York to Bali in 1993. The Maupin release states that where Gauguin "was searching for something intangible in the human spirit," Bickerton depicts a "fin-de-siecle malady." This distinction is incomplete. Gauguin chose his primitive reverie over the pressures of western cosmopolitanism, to be sure, but he also left behind a wife, children and myriad financial obligations, sailing for a place where he could less often be told that he was wrong. The "something intangible" Gauguin sought may be less romantic than we art lovers would like to have it; he was an irresponsible escapist in search of a warm place to stroke his ego.
Bickerton, the child of peripatetic parents, is a creature distinct from Gauguin. Before moving to California and then New York, he called many different countries home. His move to Bali, therefore, seems less an episode of irresponsible flight than, well, more of the same. Furthermore, while Gauguin is known to have railed against colonial doings, Bickerton's work is a veritable carnival of the colonial. The blue men in his paintings are meant to be his stand-in, but they are also expatriate wanderers or run-of-the-mill tourists, in either case individuals arriving in paradise on the coattails of colonialism. One senses some disapproval on Bickerton's part, but these new works also suggests that colonialism is, like the paintings themselves, so bad that it's sometimes good. So why not throw a jamboree?
Since at least the mid-1990s, Bickerton has reveled in his role as an art world shock jock and, in much the same way that I
kinda
love
Howard Stern
, I
kinda
love Ashley Bickerton. But these great, ugly-ass paintings are not, as the press release claims, critical examinations that address the artist's "concerns as a painter." I think Bickerton is just taking a piss. At least, I hope so. He isn't bemoaning excess and escapism ("existential wreckage," in the release); he is laughing at it, and with it.
(*) Of course, artists are at fault, too. Most of us need to take ourselves a little less seriously. If you find this difficult, a quick refresher course in the history of art, and the artist's - gasp! - artisanal role in it, will help. If that's not enough, check out
astrophysics
. Whew.

Ashley Bickerton
"The Preparation with Green Sky"
2007
Oil and digital print on canvas in carved wood, coconut, mother of pearl and coin inlaid artist frame
72 x 86 x 2 inches
Photo credits:
Because I'm rushed, images were ripped from various sites: "Hula Girl,"
artnet.com
; "Blue Bar,"
Painter NYC
; "The Preparation...,"
j-No's Flickr photostream