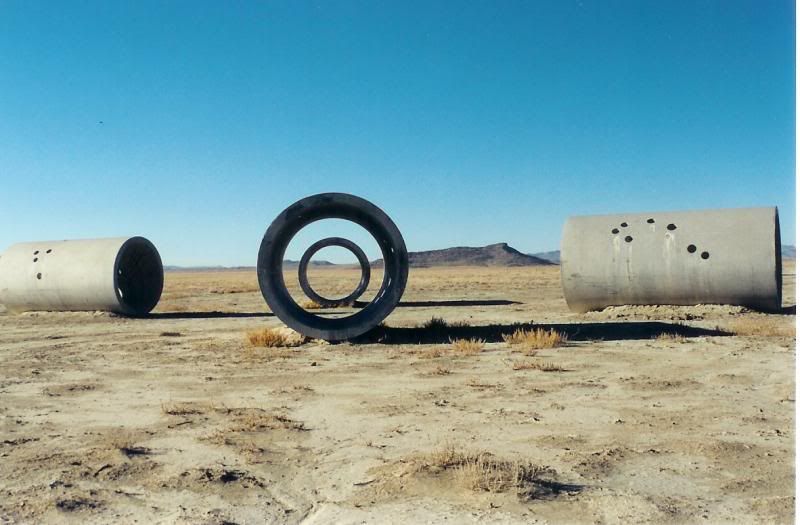 Nancy Holt
"Sun Tunnels"
1973 - 1976
A supporter of many environmental non-profits, I'd grown accustomed to receiving distressing memos detailing the
Bush
administration's environmental transgressions, large and small. Reading these emails and letters, my disappointment was compounded by the knowledge that Bush's irresponsible environmental policy was no more reckless than his economic or geo-political program; the Bush presidency was for me, as for so many others, a long, sad eight years.
It is with great delight (and relief), then, that I receive so much positive environmental news in these, the first weeks of the Obama administration. I won't recount all of the progressive developments in this space, but I will share one happy turn around.
David Gessner
's essay "
Loving the West to Death: A Story of Drill Rigs, Mountain Bikes, and the Fight to Save Our Last Wild Lands
" was published in the Winter 2009 issue of
OnEarth
magazine, a publication of the
National Resources Defense Council
. Gessner writes,
"At the moment the West is growing faster than any region in the country, and it's here that the cries of 'Drill, baby, drill!' resound most loudly. And drilling is just part of the picture. A few weeks before I boarded my plane, a 2,000-page document landed with a thud on the desks of environmentalists in Utah. This was an 11th-hour surprise from the Bush administration, courtesy of the Bureau of Land Management (BLM), the latest installment in a plan to open up millions of acres of public land, not just to the extractive industries but to off-road vehicles."
What a difference a few months can make! Gessner's spirit was surely buoyed four weeks ago, when
President Obama
cancelled "
all oil drilling leases on more than 130,000 acres near two national parks and other protected areas in Utah
."
Robert Redford
, speaking on behalf of the NRDC, said, "I see this announcement as a sign that after eight long years of rapacious greed and backdoor dealings, our government is returning a sense of balance to the way it manages our lands."
Yet there are countless Joe-Sixpack Americans (and many politicians in Washington, D.C.) that rankle at the notion of federal protection for our public lands. Their skepticism of "big government" interference is especially apparent in the West. The pursuit of freedom is high on the list of principal American virtues, and most contemporary Westerners fancy themselves members of a vanishing, but free pioneer tribe. No surprise, then, that George W. Bush's cowboy mentality is commonplace in big-sky country. Gessner writes,
"This, I thought, is the crux of it, the reason so many are resistant to restraint, to regulating and policing our public lands. 'Lawlessness, like wildness, is attractive, and we conceive the last remaining home of both to be the West,' wrote [Wallace] Stegner. Yes, we come West for that feeling of wildness, of lawlessness, the sense that we can do what we want and do it on our own."
But Gessner argues that this "
Live Free Or Die
" stance is no longer tenable; it has been rendered obsolete by our burgeoning population.
"[In] these days of crushing numbers, one person's freedom has an impact on the freedom of a hundred others...[With] greater numbers and greater use, it may just be that championing regulation and restraint, while not quite as sexy as championing freedom, is the key to preserving the smaller freedoms that are left...The larger reality is that it will require some restraint and some laws -- the legislative embodiment of restraint -- if we are to preserve these final wild patches, these final strands of hope in a diminished geography...And while old myths are hard to abandon, there is no reason why the cowboy myth of George W. Bush can't turn back into the cowboy myth of Teddy Roosevelt."
Well said, Mr. Gessner.
On a tangentially related note, resource extraction doesn't threaten "only" species and landscapes. Although artwork is by no means endangered, individual land works are.
Michael Heizer
's "
City
" and
Nancy Holt
's "
Sun Tunnels
" are just two of many land works threatened by BLM development in the western United States. For more on this subject, read "
Land Art: here today, gone tomorrow?
," in
The Art Newspaper
.
Photo credit:
ripped from
Utah Division of Arts and Museums