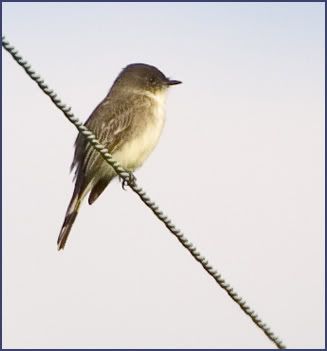 Eastern phoebe (Sayornis phoebe)
The renowned naturalist, entomologist and sociobiologist
Edward O. Wilson
maintains that belief in the
afterlife
developed as a human coping mechanism, as a way for our enlarged brains to contend with mortality. He writes,
"Our conscious minds hunger for a permanent existence. If we cannot have everlasting life of the body, then absorption into some immortal whole will serve. Anything will serve, as long as it gives the individual meaning and somehow stretches into eternity that swift passage of the mind and spirit lamented by Saint Augustine as the short day of time."
Today, religious literalists look forward to
Pearly gates
or
seventy-two virgins
while most rational secularists, frightened of death's finality, strive to reject it. The first perspective is delusional, the second, incomplete; both are fearful.
Yet there is at least one sensible and beautiful conception of the afterlife, and it is not at all fearful: reconstitution. Most people find
contemplation of the body's posthumous decomposition
uncomfortable. But the knowledge that my corporeal substance will rot and, in doing so, release energy for use by the rest of things is
deeply satisfying
.
Poet
Galway Kinnell
describes reconstitution in his poem "
The Quick and the Dead
" as "the crawling of new life out of the old, which is what we have for eternity on earth." But beyond the biological, death remains a mystery.
I can not, one way or the other, speak to
supernatural transference
, though I feel that metaphysical notions of self or soul preservation are misguided. The "me," I think, will rot with my body, but the flow keeps on keeping on, until the end of time.
The author and essayist
Edward Hoagland
, the writer that inspired
this blog's first post
, speaks to the magic of reconstitution in his book
On Nature
.
"In my stint in the army, working at the hospital morgue, I'd noticed how commonly the dead had managed at the last moment a benign or temperate sort of smile. This circularity is neither alarming nor incongruous, but rather seems to make things whole and complete. In the summer, dancing butterflies of pretty colors will congregate where I've gone outside to piss in the grass. The glint of tiger yellow or cobalt blue in their beautiful wings may be enhanced by the minerals that they so crave and that my body has declared surplus. And if a nesting phoebe soon grabs one, she is going to profit also -- which is a foretaste of the myriad uses that more extensive portions of me will be put to eventually."
We are all, then, becoming
phoebes
, butterflies, mud and gas. I find so much joy in the thought.
Image credit:
ripped from
Photographs From Virginia section
of
Kirk Rogers' site