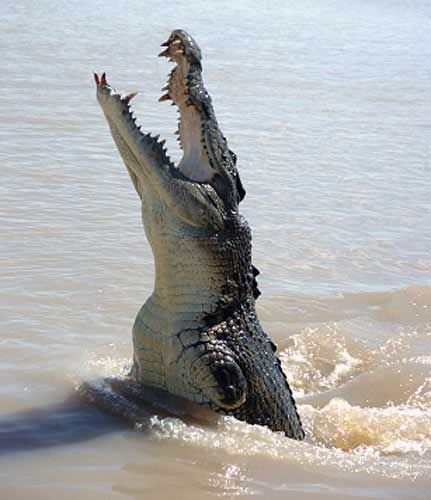 "The bank now presented a high, steep face of slippery mud. The only obvious avenue of escape was a paper bark tree near the muddy bank wall. I made the split second decision to leap into its lower branches and climb to safety. I steered [the canoe] to the tree and stood up to jump. At the same instant, the crocodile rushed up alongside the canoe, and its beautiful, flecked golden eyes looked straight into mine.

Perhaps I could bluff it, drive it away, as I had read of British tiger hunters doing. I waved my arms and shouted, 'Go away!' The golden eyes glinted with interest. I tensed for the jump and leapt. Before my foot even tripped the first branch, I had a blurred, incredulous vision of great toothed jaws bursting from the water. Then I was seized between the legs in a red-hot pincer grip and whirled into the suffocating wet darkness."
Val Plumwood
, an Australian feminist and environmental activist who died last year, describes
a nearly fatal attack
by a
saltwater crocodile
(
Crocodylus porosus
) in her 2000 essay "
Being Prey
."
In 1985, in
Australia
's
Kakadu National Park
, Plumwood's canoe was repeatedly struck by the crocodile until, capsize imminent, she attempted escape into an overhanging tree. Her attempt failed; the croc took Plumwood underwater and "
death rolled
" her three times. Incredibly, Plumwood survived the attack. Once she'd managed to surmount the steep bank, her injuries forced her to crawl almost two miles before a park ranger found her.
The terrifying experience inspired Plumwood to ponder the frayed relationship between humanity and the rest of the animal kingdom. In the course of doing so, she questioned the usual motivation for adopting a vegetarian diet.
"Although I had been a vegetarian for some ten years before the encounter with the crocodile and remain one today, this knowledge makes me wary of the kind of uncontextualized foundation for vegetarianism that suggests that predation is either a negligible anomaly or an unredeemable ethical deficiency in the ecosystem. The presentation of the food chain as a (potentially) peaceful order ideally subject to nonviolent reconfiguration leads ultimately toward the thoroughly anti-ecological position that the earth is ethically improved by the elimination of predation."
I couldn't agree more. Similar thinking inspired me, five years ago, to become a
vegetarian unless I kill or catch the animal myself
. Predation is natural, even when we are the prey.
Photo credit:
ripped from
Virgin Media